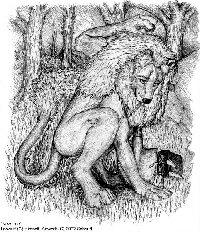 This week, we have a chat with Leowulf local wolf-lion hybrid.

Leowulf has arrived.

Ba'ar growls, "Hello leowulf and thanks for helping me out with the interview."

Leowulf looks around, "Nice place, and your quite welcome.

Ba'ar nods, "Thank you."

Leowulf takes a seat, "So, what would you like to know?

Ba'ar growls, "Okay let's start. Our readers know about you and some have even met you 'in the pelt' as it were. For one thing, how long have you been here in Spindizzy?"

Leowulf says, "Lets, see, its been a little over 3 years now, I arrived in the summer of '03"

Ba'ar growls, "What brought you to Spindizzy? Any special reason or motivation?"

Leowulf says, "Well, it was actually Butterfluff that invited me to come see SpinDizzy, a place he was quite happy with and wanted to share. I've sense grown to like it better than some of the other places I've been, so I stuck around."

Ba'ar nods, "There's a sense of community here that few other places have isn't there?"

Leowulf says, "Yeah, its the community, the friendly people, the whole environment is different."

Ba'ar nods, "Everyone's easy going and relaxed here. Easy to make friends here, I know."

Ba'ar growls, "What's a typical day like for you - or is there one?"

Leowulf says, "Oh there isn't one really, I suppose it depends on my mood that day. Sometimes I'll just laze around in the Rose Garden all day. Other times I'll go off and see if there's anything new to discover. I have yet to explore the ocean actually."

Ba'ar nods, "Do you have a favorite place to hang out?"

Leowulf says, "Mainly where there's people to talk to, so I'd have to say the Rose Garden."

Ba'ar growls, "I see. If there was one thing you could change about Spindizzy, what would it be?"

Leowulf says, "Gosh, one thing to change...yeah, more of my furiends from elsewhere also were here."

Ba'ar nods

Ba'ar growls, "Who do you admire the most?"

Leowulf says, "That would have to be the wizstaff, who manage to have full time jobs, and do muck jobs, and still find the time to come and be social. My hat would be off to them, if I wore one. I'd never be able to pull off what they do."

Ba'ar nods, "So who do you admire the least?"

Leowulf says, "Gee, I don't know about that one, admire the 'least'. That's a heck of a finger point your asking. OK, anyone who comes here their first time and doesn't think this is a great place to make friends, and a home."

Ba'ar nods, "Do you have any plans for the future?"

Leowulf says, "I'm always trying to make plans, don't know if I'll ever get around to most of them. But I'd like to try and finish at least one of the projects I've started here. Maybe finally do some area building. Beyond that, just to be known as one of the friendly helpful residents around here."

Ba'ar growls, "Is there a secret fact or desire about you that would surprise our readers?"

Leowulf says, "Not really....well, maybe, I wish I knew more folks around here better, does that count?"

Ba'ar grins, "That'll do. One more question before we go...do you have any words of wisdom for our readers?"

Leowulf grins, Never forget to look UP, nobody EVER looks UP.

Ba'ar looks up. "Why? I see nothing." He growls with a grin. "With that in mind, that concludes our interview. Again Leo, thanks."

Leowulf says, "And again, welcome, actually been looking forward to that."

Leowulf stands, going over to Ba'ar he shakes his paw, "I mean, I've only been here a whole 3 years, anniversary was last month.