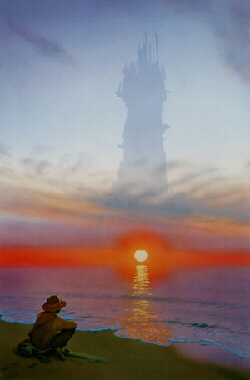 Roland Deschain, a new resident to SpinDizzy, has many folks curious about his history and his 'quest'. Roland graciously agreed to an interview with Argon of @Action News.
Argon says, "Roland, you're kind of new to SpinDizzy. Can you tell me how you found your way here?"
Roland says, "It actually is still mostly a mystery to me. Not long after we left the Emerald City, we being Jake, Eddie, Susannah, and Oy, I just kind of woke up here. Not a clue as to where anyone else went, or how I got here."
Argon asks, "Who are these other folks you mentioned? Are they here too?" Roland says, "I have not seen them yet. They might be. I'll start with Oy. Oy is a Billy-Bumbler, from my world, kind of like a cross between a raccoon and a dog, he can almost speak English, and is much smarter than some of the people I have met here. He followed us for quite some time before he let Jake adopt him. Jake, is harder to explain, he said he came from the city of New York, in the 1980's. He is a young boy, and part of my ka-tet, and even a part of me."
Roland notes that with the lack of Jake's presence, he slowly began to lose his sanity. "Eddie Dean is also from New York, but he came from an earlier peroid in time. I found Eddie as an addict to a drug, heroin, he called it. I forced him into my world, and now that he has lost his own deamons, he is becoming a compotent gunslinger. His mouth comes close to rivaling that of an old friend of mine.
Roland says, "The last, and most vocal of my ka-tet is Susannah Dean, a combination of two women, one a frighteningly violent woman who called Eddie and myself 'honky ma-fah's.' and a quiet, subdued rich woman. They were forced to combine, and Susannah is the result, she is the love of Eddie's life, and will most likely come to save him on many occasions. Also, she is much better with iron that Eddie can ever hope to be."
Argon asks, "So you were traveling as a group? Why, did you all have something in common, or were you all just going the same way?"
Roland says, "I drew them all, the reason why I did is still unknown, and I just assume it to be Ka. The will of everything, if you must. The wind blows, because it is ka. I am here, because of ka. Or as Eddie says 'Why are we here? Ka-ka.'
" Argon asks, "So they 'follow' you in a sense. Where are you leading them?"
Roland says, "They follow me because they are gunslingers, like I am. Even if I had to beat it into one of them that they are. I quest for the Dark Tower. The nexus of all worlds. There I will find answers, or death, either way, my quest will end there."
Argon asks, "You use the term 'gunslinger'. Does that refer to your, and their, expertise with firearms, or somehting else?"
Roland says, "In my world, gunslingers were the highest form of knight, one of the rare few who trained from youth to be able to carry the iron that I, and Susannah, do. For obvious reasons I no longer carry my right pistol. Jake is still far too young, and Eddie has a pistol from Jake's time, a 'Desert Eagle' as they call it. I think it is a toy, shaped like a pistol."
Argon asks, "Yes, I notice you are missing fingers from your right hand. How did that happen?"
Roland says, "My first quest was to find the man in black, the man I believed to be my Mother's lover, who ended up being a man from my own past, and not Marten at all. Once I caught up with him, he showed me my own future. I woke up, a decade later, and met a creature that looked like a lobster, but ended up taking a few of my fingers, and my left big toe. I could not kill it when I first awoke due to my guns being wet, and the bullets ruined."
Argon asks, "You mention meeting people who aren't from your time. 'When' and where are you from?"
Roland says, "I lost comprehension of time when I left Gilead, so very long ago. I rarely dwell on time, but I am from a world that I best assume is parallel to human Earth. Times and creations are mixed, but their world does seep into mine. Pistols, the tram, weapons of mass distruction, and even a plane that Jake said was from 'World War II' a 'Nazi' plane."
Argon asks, "Perhaps what we call where I am from an 'alternate reality'."
Argon asks, "No more or less real than mine, just following a different path."
Roland says, "All worlds are connected. Each and every world has it's own beam, but there are only twelve. Twelve guardians of the beam, twelve beams."
Argon asks, "You've mentioned these beams before. What are they?"
Roland says, "The Dark Tower is connected to everything by a beam. It isn't a tangable thing to those who are not beam-breakers. But it can be seen on the path. There is a place everywhere where the wind only blows one way, the trees, grass, and even people lean just slightly towards the beam. But there are those who would set out to break the beams, and fell the Dark Tower."
Argon asks, "So, this tower is kind of a crux of realities, where they meet and either combine or are kept seperate?"
Roland says, "They are kept seperate by their beams, the tower is their converging spot. Think of it as the staff the Gods use to hold up existance. Each world has a staff holding it up, and the staff that holds those worlds too has a staff. The dark tower can fall, if the beams are all broken."
Argon asks, "So, what happens if it falls?"
Roland says, "We stop being."
Argon asks, "So, who or what wants to destroy this tower?"
Roland says, "The walking man. R.F. is the one who controls those who would set out to destroy it. The Crimson King, is one of his minions. I know little about any of them, save that R.F. is afraid of my bullets, from my time."
Argon asks, "So why don't the armies of your world rise up and destroy him?"
Roland says, "My world is dead. Gilead fell, and the beam was broken. I am the army of my world."
Argon asks, "Will repairing the beams restore your world?"
Roland says, "The beams cannot be repaired, that I know of. Even so, it will not bring back what once was."
Argon nods, "So why do you bother? Why try and save other places that mean nothing to you?
Roland says, "I do not care about the other places. I care about the Dark Tower. Like I said, either knowledge or death waits for me there. Whatever I get, is what it should be. It's ka."
Argon asks, "So, tell me something about your travels. Where have you been?"
Argon asks, "You've mentioned New York, which is a place I am from."
Argon asks, "Well, a place in my world. Have you met any other centaurs in your travels?"
Roland says, "I have seen New York in the civil rights era, where I saw Susannah as a girl, before she lost her legs. And no, I have not met any centuars, before I wound up here, I knew none of the species, save Pixies and vampires, existed."
Argon nods, "I think we're pretty much a artifact of the myths of my world. Tell me about the land of Gilead, before things became dark there."
Roland says, "Gilead was the greatest kingdom in a time of great kingdoms, our way of life was with peace due to the nature and ability of the gunslingers, and it is said to be the home of Arthur Eld, the first gunslinger. Grandure and beauty permiated my home."
Argon asks, "It sounds very gallant and noble. And the destruction of its 'beam' brought it to ruin?"
Roland says, "The beam was bent and corrupted by minions of the crimson king, and then John Farson began to invade, the gunslingers fell in battle, Gilead fell, and the beam was broken. Bending the beam causes catastrophic events. Jake told me of the use of the 'a-bomb' during a war. That was a direct relation to a bent beam."
Argon asks, "How was it left to you then to save what remains of the worlds this Dark Tower keep in check? And are there other 'realities' with other 'beam convergences' of their own?"
Roland says, "You misunderstand me. I am not out to save the realities. I do not care if they all burn, as long as the Dark Tower stands. If ten of the eleven realities are lost, I will not be moved either way, as long as the Dark Tower stands. And yes, there are eleven other realities, all of which lead to the Dark Tower."
Argon asks, "So.. If you care not about any of the worlds or realities the tower supports, why bother? So what if the tower falls, if you don't care about what it supports?"
Roland says, "You are still too young to understand, Argon. For years I was told that all answers lie at the dark tower, year after year after year. Now all I think about is the Dark Tower. I will forge a path to the dark tower, even if it means destroying eleven of the twelve realities. I will find the Dark Tower."
Argon nods, "Well, I hope that you are able to at least save the reality of SpinDizzy, whether you mean to or not."
Roland says, "I am sorry Argon, but nothing will stand in the way of my quest. Nothing."
Argon asks, "I must say, it seems strange to be prepapred to destroy everything, including your own home, in order to reach this tower. Particularly when that is the purpose of the 'Crimson King', as you call him."
Roland says, "The Crimson King wishes to destroy the tower. He cares not that he has to destroy everything else to do it. The Crimson King stands in my way, so he too, will fall to my will."
Argon asks, "And what's so special about reaching the tower that it is worth destroying.. 12 did you say? Twelve worlds to get there?"
Roland says, "Eleven. One needs to stand for the tower. Once I find the tower, I'll tell you that."
Argon asks, "Well, I must say your story has raised more questions in my mind than it has answered."
Argon smiles.
Roland says, "All stories about the Dark Tower end up so."
Argon asks, "And considering the consequences, I'm not sure if I should wish you luck, or hope you fail, neither option seems hopeful."
Roland says, "If I fail, R.F. will destroy everything."
Argon asks, "Who is R. F.?"
Roland says, "The walking man. He is the one who controls the Crimson King. He is evil, pure and plain."
Argon asks, "What does R. F. stand for?"
Roland says, "I do not know."
Argon asks, "How do you know this name for him then?"
Roland says, "We met him in the Emerald Palace. We woke up, and he had made us picnic basket lunches, and left us a note. "Give up your quest for the Tower or die, gunslinger." And he signed it, 'R.F.'"
Argon asks, "I must say, your tale is quite interesting. Perhaps some day you can write a book about it."
Roland says, "I doubt so, Argon. I will most likely die once I find the tower. And even if I wanted to, I can't write left-handed."
Argon nods.
Argon says, "Well, let me conclude this interview by wishing you, and the realities, good fortune. I hope your quest ends with all surviving."
Roland says, "I will leave you with this, Argon. A witch once told me that Death followed me, because I was better at killing than he."
Argon nods.
With this, Roland scanned the sky and follwing a pattern only he could see walked purposefully to the north.
Editor's Note: Roland's player has based his character on the Dark Tower series of books by Stephen King. This is a series of (I believe) nine books that form the basis of what Roland has described in this interview. For more information, look at these sites, or better yet, read the books!