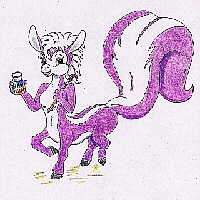 This week we chat with Violet, local donkey.
Violet has arrived.
Ba'ar smiles, "Hi there, Violet."
Violet waggles ears, "Hi.. I'd wave, but the current ah, body shape situation makes that kind of hard right now."
Ba'ar gives Violet a skritch between the ears, "Don't worry about it. At any rate, welcome and thanks for helping me with the interview."
Violet perks her ears and rubs up softly against the touch, nickering a little. "Oh No problem. I'm kinda honored that you asked anyways."
Ba'ar smiles, "No problem. Okay let's start. Our readers know about you and some have even met you 'in the pelt' as it were. For one thing, how long have you been here in Spindizzy?"
Violet hmms, "I think it's been almost two years now since I found myself here. I've rather enjoyed it all though. There are lot's of nice people, uh critters, hmm well folks here.
Ba'ar growls, "What brought you to Spindizzy?"
Violet brays, "Hmmm.. I guess you could call it a lack of purpose. Ya see..I'm not usually uh, live and ya know, flesh and blood. I was a 'toon, a cartoon character. But I kind of got left on the drawing board, tucked away as an idea that didn't, for the lack of better term, sell. I guess whatever spark of imagination that got me started in the first place, didn't want to be relegated to the trash bin or scrap file...so I wound up here. I guess I needed to show I wasn't just a bad idea and a bit of paint."
Ba'ar growls, "So you were a toon? Did you come out of any studio we know of? Warner Brothers? Klasky-Cuspo? "
Violet brays, "None of the big ones no... I was more a student freelance project at one of the art and animation schools. I had hoped one day to mingle with the big guys and gals at Warner or Disney maybe, but that never quite worked out. One little film and the start of another was all I got. My ummm creators were told that 2D animation was a dead end... So I was left rather abandoned."
Ba'ar growls, "As I understand it, you weren't always a donkey. What caused you to change?"
Violet brays, "This? Oh, recently I got to wonder what it was like being real. I guess it the Pinnochio syndrom. And well, as part of my 'toon backstory, there's a slightly loony mad scientist type that I work with, but Dr. Cogz is an uh..off camera character, yeah, that would be a good term. Well, Cogz is really never around so I fiddled with some of his 'toys' He has a transmorgifier machine that never quite worked right and I kept trying to fix it. So I thought maybe it might do the trick. Well, I changed some settings, got some extra stuff from here, plugged it in, turned it on and uh...well it kind of worked. Maybe a little too well though."
Ba'ar growls, "What was your original form, may I ask?"
Violet brays, "Originally? Oh way way back, I was a toon skunk. But that got changed by Cogz in the middle of working on the second film... I ended up a silly blend of donkey and skunk. It was a 'scent-taur' with pun intended of course, given the toon nature. My lower body was a four legged donkey and my upper was mostly skunk, though I still had my nice big ole fluffy skunk tail. Since the film was never finished, I never got to change back into a skunk and I arrived here as the scent-taur. "
Ba'ar nods, "What caused your transoformation to donkey form?"
Violet brays, "My mistake, I think. I forgot to put in all the proper information and Cogz's computer is...kinda cranky anyway. It couldn't pattern match the scent-taur to anything real live and flesh and blood. And since I was more than half donkey, what with the lower half being bigger than the upper...it translated all of me into this. I guess it was the closest match the computer could come up with. But I secretly think that the dang machine likes to play tricks on me anyway..."
Ba'ar nods, "So do you think you'll stay in donkey form?"
Ba'ar growls, , "Also, are you a REAL donkey or are you still a TOON donkey?"
Violet brays, "Oh, I'll answer the second first.. Yeah, real, live, and all that goes with it, so it would seem. But I'd like to get back to what passes for normal eventually. Normal for me that is. I hope the flesh and blood readers don't take offense...but this whole real live thing isn't what it's cracked up to be. Things like having to eat, having to sleep, and blunt trauma actually causing damage can be really confusing when you are used to it being optional before."
Violet brays, "Plus..this body just can't do stuff..."
Ba'ar cocks his head, "Stuff like what?"
Violet brays, "Oh, for instance...umm, I kinda really wanted to whack Morticon the other day with a mallet I carry in my toon skunk tail...but ah..I got no tail to carry things and even if I could...these real hooves don't pick things up. I can't stand up on two legs now either. As a toon, being exempt from most laws of physics and biology was very handy. I didn't realize that real folk had it so hard sometimes..."
Ba'ar chuckles, "I see. Think you'll stay in donkey form?"
Violet hmms, flicks her ears and ponders, "I don't know. A lot depends on if I can get the computer in Cogz's lab to cooperate. But I have a feeling I might be like this for a while given all the rude noises it made at me..and the giggling. At least I think it was giggling. I usually whack it with the mallet too when it does that...but uh..well...you know..." She looks down at her forehooves and holds one up.
Ba'ar growls, "So what's a typical day like for you-or is there one?"
Violet brays, "Lately..it's been a lot of grazing and trying to figure out how all this real live thing works. Even little donkeys have to eat a lot of grass and greens, so at least a third of waking time is spent grazing unless I get a big bale of hay to munch on. I find I like running a bit like this though. Before this though, I tinkered sometimes in the lab for part of the day and then went out to get into trouble...err I mean to see folks and..ah yes umm socialize...yeah."
Ba'ar growls, "Who do you admire the most?"
Violet flicks her ears and ponders, "Oh ah..well in the big picture... I guess it's a toss up between Walt Disney and Chuck Jones, both did a lot for toons in general. Walt practically defined the medium in some ways and Chuck tweaked up the madness. Here...well Austin for one. He keeps things lively and ever changing." She ducks her head and looks around for a moment, whispering, "Uh secertly I think Morti is kinda cool too, coz he stirrs up a lot of trouble...but I wouldn't want it to go to his head. I'd never live it down for saying that..." She pauses a moment, "Oh and I admit I'm rather impressed by you and Argon, I don't think folks sometimes appreciate how much work you put into the paper...it's one of the things that really helps make this place unique and interesting.
Ba'ar blushes. "That's so sweet. Thank you."
Violet brays, "I mean it... it's stuff you don't have to do..but do it anyway. It makes a difference."
Ba'ar nods, "I have to give credit to Argon. He's the one who does most of the 'heavy lifting' in putting this paper together."
Ba'ar growls, "Coming from a toon's background, do you have any cartoon characters you admire the most?"
Violet brays, "Oh...hmm... Bugs Bunny comes to mind first. I mean, Mickey may have been one of the first, but Bugs went the distance and to all the extremes. He has the attitude, the spunk, just the right balance of madness and precision control. Nothing every fazes him and he always manages to turn the situation to his advantage. He's very inspiring...but also almost impossible to copy."
Violet brays, "Err nothing ever fazes him...rather. "
Ba'ar nods, "So do you have any plans for the future-other than getting your 'tooniness' back?"
Violet hmms, scuffs a hoof, "Not yet. I hoped to be involved in setting up something more for toon folk here and a kind of tribute to both animators and toons...but I keep getting distracted away from that. I'd like to get more involved in things around here in general..but for some reason I get pulled away a lot too. I fall into a kind of a deep sleep where I'm 'gone' for days or weeks sometimes. It makes things difficult to get stuff done as I'd like.
Ba'ar nods, "So what secret fact or desire about you would surprise our readers?"
Violet blinks and her muzzle gets a touch of pink blush. "Oh...err. Hmmm..there's probably a few, but uh I guess the big one is that I ahh err... kind of like the odd changes that I go through. As a toon, I got turned into the 'taur, uh a toon donkey, a toon goat, a toon cow... and now this. It's fun for me to explore different shapes, I guess, as long as they don't get too...far out. Though some would say some of my shapes already did.
Ba'ar nods,"One more question before we close...Do you have any words of wisdom for our readers?'
Violet nods, flicking her ears, "Yeah, I'd have to say, don't let others get in the way of your imagination or your dreams, we often want to do something and there's always someone to say, 'Oh, you can't...it can't be done...it'll never work...' It's easy to get derailed...but even when yo do, always try and get back on track.
Ba'ar grins,"Good advice that. That concludes our interview. Again, Violet, thanks."
Violet nods and offers a gentle nuzzling with her fuzzy nose. "And thank you... I'd shake hands, but ahh..well we discussed that part already..."