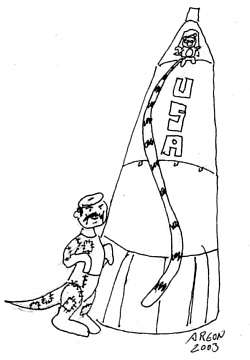 Lemurpunzel was a Lemur. She lived in the capsule at the top of a model of a Gemini-Titan, made of purest zinc. Every morning she would open the doors of her capsule, and sit sunning herself, while she groomed her wonderful Deluxe Adjustable Tail, which was the longest in the world.
One morning she was sitting enjoying the sunshine, when down below she heard someone call, "Lemurpunzel, Lemurpunzel, let down your tail!" Lemurpunzel looked. It was Saddam Hussein. He wanted to oppress her, and steal her zinc.
"Nope!" she said. Hussein wandered away, grimbling.
A few minutes later he returned, dressed in a cheap Wallaby costume. "Lemurpunzel, Lemurpunzel, let down your tail!"
Lemurpunzel looked. "Bzort!" she exclaimed, believing that it was a Lemur dressed in a Wallaby suit.
She pitched her Deluxe Adjustable Tail over the edge, and began to extend it as fast as she could. Longer and longer it got, as it began to pile up on the ground around Hussein like a coil of rope. Faster and faster the tail piled up, until Hussein was standing in the middle of a tail-coil as high as his eyes, with no way to get out.
Suddenly the tail reached the end of its length, and stopping with a sudden snap it jerked Lemurpunzel out of her capsule. Down she fell, straight onto Saddam Hussein who was staring up at her from below.
Hussein broke her fall, but her fall broke Hussein. At first Lemurpunzel was sad, because she thought she'd smashed another Lemur, but when she realized what had happened she began to prunkle.
Lemurpunzel reeled in her tail, and climbed back up to her capsule. The End.