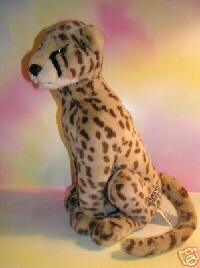 This week we sit down to talk with Felina, local cyber-cheetah!
Felina has arrived.
Ba'ar smiles, "Thanks for allowing me to interview you Felina."
Felina wavies as she enters and nods "You're welcome, Glad to help."
she smiles.
Ba'ar nods "Okay let's start. Our readers know about you and some have even met you 'in the pelt' as it were. For one thing, how long have you been here in Spindizzy?"
Felina nods as she stands there "Yes, I am around alot." she rests a hand on her swollen belly as the other moves up to scritch her ear "Oh... I'd have to say alittle over 2 years... Long time."
Ba'ar nods "What brought you to Spindizzy?"
Felina mews, "Came with a good friend of mine." she shifts a little on her feet "I came with the island after he scouted."
Ba'ar nods "I understand you have cybernetic implants. Where did you get them from? What purpose do they serve? "
Felina blinks alittle and nods "Yeah, I do.. it's the first thing a lot of people seem to notice.. They keep me alive.."
Ba'ar growls, "If I may ask...were you in an accident of some kind?"
Felina's ears fold a little "Not quite. It's mostly a blur.."
Ba'ar growls, "Were you given those implants as a kind of enhancement then?"
Felina shakes her head "No."
Ba'ar nods, "What are the advantages of having cybernetic implants? The disadvantages? "
Felina mews, "Heal a little faster... Stand out in a crowd."
Ba'ar growls, "If you had a choice (and they wouldn't endanger your life) would you have them removed?"
Felina mews, "I.. don't know. But can we change the subject?"
Ba'ar growls, "I'm sorry. I didn't mean to pry.. Now then..who do you admire the most?"
Felina hmmms and scrirtches an ear in thought again "Uhh.. That's a tough one.. Maybe Gem for putting up with his crazy hyper girlfriend."
Ba'ar smiles "You aren't THAT bad, from what I can tell. Now then. What's a typical day like for you? "
Ba'ar growls,, "Or is there such a thing? "
Felina mews, "Uhh... Eat, sleep, nap, more eating"
Felina mews, "Usually go to the garden and listen to the chatter somewhere in there."
Ba'ar chuckles "Works for me. Do you have any plans for the future?"
Felina mews, "Well, after my occupants leave.. I don't know."
Ba'ar smiles "What secret fact or desire about you would surprise our readers?"
Felina mews, "Uhhhh...."
Ba'ar growls,, "Or would it be so secret that if you said it you'd have to kill me? "
Felina mews, "I'm acctually almost 6 years old?"
Ba'ar smiles and nods "One more question before we go. What words of wisdom would you have for our readers?"
Felina mews, "None really that I can think of.. Don't mix lemon juice and milk?"
Ba'ar nods "That ends our interview. Thank you again for allowing me to do it.
Felina nods "K."