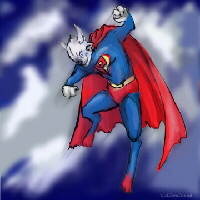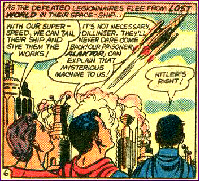 Hi-ho, readers! It is time once again for another go- around with the Four-Kolor Kitty. Once again, Austin has sent in a panel, which is confusing as well as amusing. In it, we see Superboy, along with two other fellows, watching a rocket ship take off. The young man to the left of Superboy is known as Ultra Boy, while the one on the right is Mon-El. However, Superboy refers to Ultra Boy as "Dilinger" and Mon-El seems to be agreeing with the former head of the Nazis. What is up with that?
This is actually from a story in Adventure Comics # 314, published during the Silver Age of comics, and featured the tales of the Legion of Super-Heroes, a team of super-powered teens taking place 1,000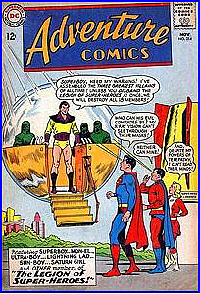 years in the future. Superboy would regularly break the time barrier to visit them. The cover of this issue shows super- villain for this story stepping out of a "Time Bubble", as the time machines of the Legion's era are called, proclaiming he has the three greatest villains of all time with him. Of course, they are masked and the members of the Legion can't find out who they are.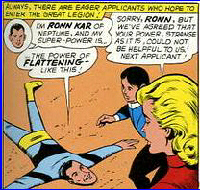 The story starts out, however, with an old Legion tradition: Legionnaire Try-Outs, where young hopefuls can show of their super-powers in hopes of joining their ranks! This time, we only see two, the first being Ronn Kar. He fails to impress anyone with his power of flattening. Obviously, the ability to slide under doors and through cracks isn't as good as becoming a human pinball or being able to eat anything.
The second individual attempts to wow the Legion with his "marvel belt", which could create a host of effects. However, Legion rules state that a member's powers cannot be dependent on a device. Again, they reject the candidate. But all is not as it seems…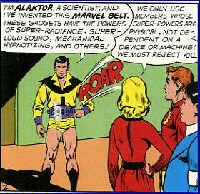 It seems Alaktor didn't really want to join this super- hero club, but was actually using his belt to snap x-ray pictures of security in the Legion's headquarters. He later returns, bypassing the various traps, and steals himself a Time Bubble! However, one last alarm goes off, alerting the Legion but not in time to stop him. The Legion start building a second Time Bubble while Alaktor picks up Nero, John Dilinger, and Adolf Hitler! Why is he picking up these three? On to part 2 of his plan….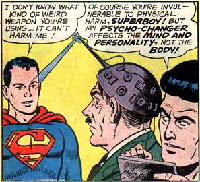 You see, while Alaktor is in the past, a planet called Lost World (due to the fact that it wanders about) has entered the solar system and it is full of powerful weapons and machines. The Legion plans to protect the planet from anyone who tries to gain access to its technology until it leaves and gets lost again. Alaktor has invented something called a "Psycho-Changer", and plans to use it on the three most powerful Legion members, switching their minds with those of the three villains of the past!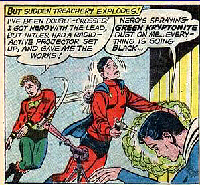 At first, it seems his plan is working! Super-Hitler, Ultra-Dilinger, and Mon-Nero chase off the rest of the Legion, capturing the Lost World and its supply of high-tech equipment. They then construct a duplicate of the Legion's headquarters on the Lost World, and prepare to take it over. However, that is where Alaktor's plan falls apart. As none of the villains wish to share their power with anyone else, they each backstab each other. Of course, they all choose to do so at exactly the same moment, resulting in a three-way knockout.
With the villains out of action, the Legion comes in, forces Alaktor to switch the heroes minds back, erases the memories of the three historical villains, and send Alaktor to prison. The returned Superboy, Ultra Lad, and Mon-El then push the Lost World into a cosmic cloudbank so that no one will be able to ever find it again! Just another job well done by the Legion of Super-Heroes!
And that wraps up another issue of the Four-Kolor Kitty! Remember, if you have a suggestion for a future column, just page #mail PatchO'Black, and you probably won't have to wait until the 31st century to see it used! Until next time, see you in the funny pages!