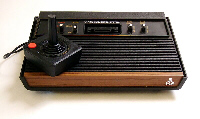 Okay, here is your lil racconie taking a small break from her rehab to give you the next lil story of "Classic Gaming"
Well, since I just recovered my mind, I gone through my old articles and, well, since I started on my "rehab game", I should continue that track.
Since my back recovered, I was allowed to start playing the next step in my goal on the Wii.
Well, there are a few options as far as this goes. You can play the three hole course that goes from beginner, intermediate, hard and expert. You can also play the nine hole course (which should only be played if you are at the expert level).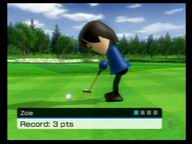 There are also three training modes. One is to help develop your swing to land on the green. The next is to see how close to the green you can make it and the last is target hitting or how close you can get to the bullseye despite conditions.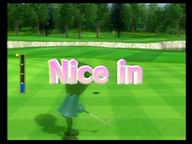 The idea of golf is simple. The goal is to get par or better. Par is pretty much what the average golfer can sink the ball into the cup. It is best to stay in the fairway or the green (the two most optimum places to hit the ball). If you land in the rough or the bunker (sand), the hitting is more difficult as well as any trees that are in the area. If you hit the ball out of bounds or into the water, you lose a stroke. If you get par, you get an E or even. If you get a birdie (one shot less than par), Eagle (two less) or Albatross (three less), your score goes down. The lower your score, the better. If you score a bogey (one above par) or higher, your score goes up. The goal of course, is to get the lowest score possible.
I will not bore you with how "badly" I play. I do have a few issues with the sensitivity of the game because it swings when I am in the back motion and doesn't move when I am in the forward motion. It also goes much harder than I intend it to be. This is a slight bug that can be helped through a LOT of practice to get it right.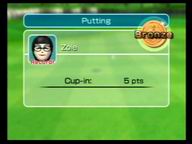 As with all the WiiSports games, it takes a lot of practice to get good at it. This is meant to be done every day to help you keep your body and mind fit.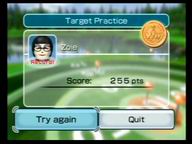 Well, hopefully I will be out of my left arm cast soon so I can show the last part of the game, WiiBoxing, but if not, I shall continue with another game that I can hopefully do with one hand.
Until then, may you continue your practice and give me suggestions of what games to snag!
Zoie, who's indian name is "one who gets spanked by Tiger often"