(Editor's Note - Due to a mistake on my part, last week's Classic Gaming Article should have run this week and this week's Classic Gaming Article should have run last week. So if things seema little out of order, it's my fault, not Zoie's. Sorry Zoie, and thanks for a great series of fun articles! - Argon)
Hey all!
Its the 'lil night time gamer raccoon here again with her new article.
Well, this one comes when I first discovered the internet back in 1997. It was a game that everyone was talking about and you were able to play the game for free download, despite the fact you could only play as the warrior instead of the full game. The game was dark, the game was brooding, the game was brutal, the game was demonic, the game was...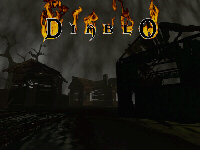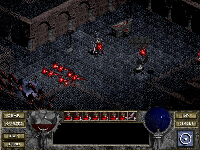 You start out in the town of Tristram as a warrior, rouge or sorcerer. As you begin to talk to the the towns people. As you begin to gather information you discover that the King sent his own son to fight Diablo's minions and eventually the townspeople, under the guise of Archbishop Lazarus led a rescue party, only to discover he led them into a trap and the wounded townsperson begs you to avenge them from the demon called only "The Butcher". As you delve deeper into the labyrinth, you face even darker horrors and demons.
As you begin to notice the difficulty grow even more fierce, you discover more of the story, King Lorick, filled with anger and grief over his son, blamed and killed many of the townspeople and his knights were forced to slay him. With the king's dying breath, he cursed everyone and came back as a skeletal figure with one, the barkeeper asking you to put his soul to rest.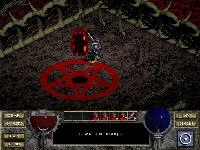 As you perform deeds for the townsfolk, saving various souls and gathering items for your deeper plunge into the darkness, you eventually will talk to Deckard Cain regarding the assault on Archbishop Lazarus, whom you discovered actually was the one who kidnapped the young prince. After gathering the staff to open up his sanctum in the pentagram, you can face and slay the corrupted Archbishop and open the way to hell itself.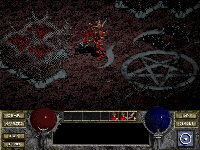 As you fight through the denziens of hell, you must perform four tasks to unleas Diablo, whom was sealed at the bottom of the Labyrinth and retrieve his soulstone!
However you get a VERY evil twist to the ending!
This game brought a lot of shock to many parents that it delt with demonic forces. Even though you were the one slaying them, it brought many parent groups as well as others that wish to "protect" children from such brutal violence. This game brought forth an expansion that brought new classes and quests to the game as well as a sequel with its own expansion.
The online version of the game brought many allies together whom wanted to fight and kill the demon race as well as PvPers (Player vs Players). This game was also very well hacked by people who wanted the best weapons and gear rapidly and started the trend among other players to PK for laughs against those who where newer (newbies/noobs). This in turn brought out the guild systems in this game and others for those who wanted to be PKers, PKKers (player killer killers) and Player defenders.
This game holds a special place in my heart as it opened me up to online gaming! Though I have walked way from the Diablo series, I am still very active in other gaming series! In the end, let me leave you with a thought, a game is only as good as how much you enjoy spending time on it.
This game has plenty of replay value if you enjoy the online experience though if you don't want to associate around hackers and PKers, I advise you stick with the sequel, Diablo II or stick around non-PK areas and games.
If you are into PvP, this game is an early example that you can bear your teeth into!
I hope everyone can take care and enjoy yourselves! Since no one took a guess at my lil question last week, I leave you with a thought of my next game. It is a very well known game who's tune is very simple, yet catchy and currently an attraction in the new "Brawl" series. Lets see if you can guess!
Zoie, the rogue raccoon