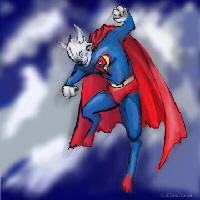 Howdy, friends and neighbors! I thought we would take a break from our worlds tour of DC/Marvel crossovers. This week, we will be looking at the Armored Avenger, Tony Stark, better known as Iron Man! Known sometimes to his friends as "Ol' Shellhead", this hero has had a long and interesting career that has been tinged with tragedy ever since his beginnings. Then again, this IS a Marvel character, so expecting a problem-free back-story is a bit like expecting an opera to have a happy ending.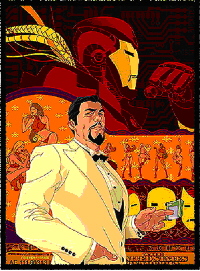 Anthony Stark is, first and foremost, a brilliant engineer and inventor. When he is 21, his parents die in a car accident, and he inherits the family business, Stark Industries. His first act? Buy out the company that made his parents' car and fix the faulty break design. From the get-go, Tony is a man who wants to make things right.
Later, he visits a recent sight of battle (originally Vietnam, but later it is suggested it is the Gulf War), and is caught by a trap. He is captured, dying of some shrapnel in his chest, and forced to work for the villainous warlord Wong Chu. Wong Chu pair Stark with a physicist called Yin Sen, later renamed Ho Yinsen. Wong Chu orders them to make weapons for him. Now, as you might expect, letting two top-notch geniuses work in a fairly well stocked lab to build weapons is a plan that is just waiting to bite Mr. Chu in the fleshy parts. Sure enough, they manage to build a suit of powered armor that acts as both a super pacemaker for Tony's failing heart but also allows him to take on Chu's guards and make his escape. Ho Yinsen sacrifices himself to let Tony get away.
Once he returned to the states, he decides to keep the secrets of the armor to himself.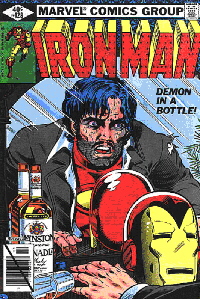 He establishes the identity of Iron Man, pretending that the man under the iron mask is actually a secret bodyguard. At first, Iron Man battled communist enemies, such as the Black Widow (a sexy female super-spy), the Crimson Dynamo (a Russian version of Iron Man) and the Titanium Man (another Red Bloc knockoff). This fit well at the time, Tony Stark being a major capitalist and all, but it the anti-commie stand was soften as the view of the Vietnam war changed. Tony Stark's personality has remained much the same, though. A conservative, he tends to back the government and the status quo. However, he is also very sure of himself to the point of being somewhat arrogant, and this can lead to him feeling that extreme actions are justified.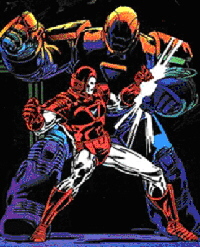 He has had his failing heart replaced in a heart transplant. However, soon afterwards, he became an alcoholic and began a downward spiral. This caused him to lose his company to one Obadiah Stane. Stark passed his armored alter ego to his friend, James Rhodes
Later, Stark would take control of his life again. He would start a new company called Circuits Maximus, retake the Iron Man identity when Rhodes suffers mental instability,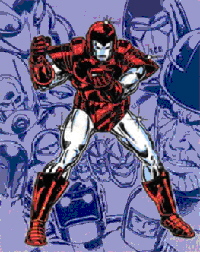 and finally fight Stane in an armor versus armor battle, ending with Stane committing suicide, rather than be taking to justice. The fact that Stane uses the technology in Stark's own suit to create the "Iron Monger" armor to battle him leads to the next major event: The Armor Wars.
Stark decides that only he can be trusted with the secrets to the Iron Man armor and its unique technology. He therefore goes on a one-man war against all the other folks who use powered armor, both hero and villain alike. After Stark attacks the U.S. Government's own high-tech prison guards known as the Guardsmen, he is declared a danger and is hunted down. Tony then fakes the death of Iron Man, and claims that a new person will be chosen to pilot a new Iron Man suit.
Over the years, Stark would continue to battle villains, aliens, and the occasional super-robot on a rampage. He would eventually reveal that he is actually the man in the red and gold suit. However, when the death of hundreds of innocents happen when a fight between novice superheroes and a team of super-villains goes horribly wrong, Tony Stark finds himself supporting an act that forces all super-heroes to register with the government and puts him at odds with several of his friends, including Captain America. Upon the death of Captain America, he realizes that what he has done was not worth the death of his friend. He then, in an attempt to try and make things right, accepts the position as the new director of super-intelligence organization, S.H.I.E.L.D.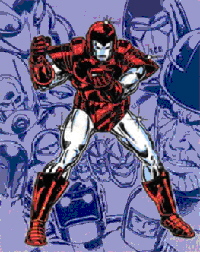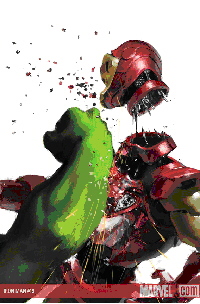 However, his past actions are still coming back to haunt him. Recently, with the aid of some other heroes such as Reed Richards, Dr. Strange, and Professor X, he launched the Hulk into space in hopes to leave him on an uninhabited world, sparing ours. However, instead, the Hulk went off course, landed on an inhabited planet, became a warlord and, then, had millions of his followers killed when the shuttle he had been launched in exploded. Blaming Stark and his co-conspirators, he has returned to Earth, taken New York, and is demanding that his former captors be turned over to him. Iron Man is captured fighting the Hulk's forces, and at this time, his future looks grim. However, even if Mr. Stark passes on, I think it is a safe bet to say that, sooner or later, someone will don the armor and once again, Iron Man will fight the good fight!
That's it for this week's Four-Kolor Kitty. Remember to send in ideas and questions for future column to Patch O'Black. Until next time, see you in the funny pages!