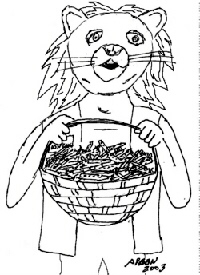 Patch O'Black, local Jellicle cat offered to tell a story in the style of Baron Munchhausen. Patchy spiced up his telling of his tale with a request for listener paricipation, as he tells below...
PatchO'Black's cat basket raised a platform, which had Patchy sitting on a regal looking chair. Next to him was a bust of Baron Munchhausen.
He mewed,"So, anyone care to hear a tale of one of my great adventures?"
Austin, local elastic coati said,"Sure, Patchy, let's hear it."
Patch noted, "Ah, but there are some rules to my telling a tale, Austin! I will be telling a tale that is much like those of Baron Munchhausen. Now, to keep things interesting, each person here may, once, interrupt me to point out some fact or observation, to introduce some complication into my story!"
"Now, what tale of mine would you like me to tell, Austin?"
Austin said, "Oh, how about the story of how you built Raccoonfeller Center, Patchy?"
Patchy mewed, "Ah, yes, Austin, I remember it well! This happened in my youth, when I was traveling the world, and had arrived in New Coon City. In those days, there was great excitement. The Great Shiny Depression was ending, and there was plenty of work for a go-getter. Of course, the talents of a Jellicle cat such as myself were in much demand!"
"As I looked over the various offers that came in by the truck-load, who should call, but J.D. Raccoonfeller himself! Of course, J.D. Raccoonfeller had made a fortune from drilling for shinies. However, that is another story. Mr. Raccoonfeller, or J.D. as his friends called him, was looking to build a huge complex of buildings, something both practical and a sense of style. Of course, he knew that only I could design such architectural wonders..."
Austin asked, "You were designing, then, Patchy, and not growing them from seeds like the other buildings?"
Patchy mewed, "Well, you see, Austin, that was one of the problems with the project. The ground lacked good top soil, thus growing them wasn't practical."
Austin suggested, "Better bedrock, I imagine."
Patchy continued, "I took the job, of course, as I could never resist a challenge. Now, even I knew I would need help on a project of this scope. Therefore I brought in two experts, one being the reknowned fox builder, John R. Todd, and the other was the master architect, Raymond Hound.John Todd, who had tan fur, was an extremely active fellow. It seemed like, no matter what hour of the day or night, he was on the job. Raymond, on the other hand, was a very relaxed canine. Oh, not to say he didn't get his work done, just at a more casual pace..."
Patchy went on, "Now, of course, the differences in the pace of my two partners did cause some issues. Near the end of the project, Todd would complete building from the blueprints he had and would then have to wait for Hound to send over more!"
Austin asked, "He kept the blueprints in blue, then, and didn't find another colour more practical? Or were they just called blueprints for camouflage?"
Patchy noted, "Austin, you have asked your one question. Someone else should ask a question, or this story will end quickly."
Suri, local lemur, asked, "Why did Todd go berserk?"
Patchy answered, "Well, Suri, he was a very energetic individual. He was incredibly insightful as well! In fact, he was able to understand Hound's plans and even figure out what he would be planning before he even got it down on paper!" Suri nods. WhyteShadow, local red panda, asked
, "Is that why you lost your military commission to the Great Turnabout Recession and had to draw your circles with sawdust?"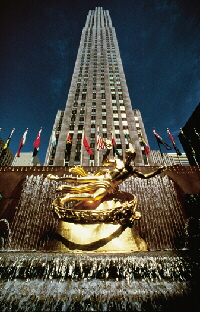 Patch mewed, "Actually, that was part of a brilliant plan we had. It was all a plot to keep Hitler's Nazis out of the center. By making it a civilian project, and using sawdust to plot out the boundaries for the circles, we both keep the fascists out and saved money! Anyway, as time started to run out on the project. We need to keep building as fast as we could. That is when I came up with a brilliant idea!"
Patch continued, "Since Todd was able to figure out what needed to be built even before Hound got the plans finished, we let Todd just go ahead and build. Then Hound could send him the plans, which would match anyway!"
Patchy mewed, "It, in fact, lead to a famous saying...."
Argon, local centaur, wondered what the famous saying is. Suri was going to guess "There's always room for more gunpowder!"
Patchy broke the tension with the answer mewing, "'The quick brown fox jumps over the lazy dog'."
Patchy concluded, "And that is how I helped build Raccoonfeller Center! And this tale is as true as the word of Baron Munchhausen. I thank you!"