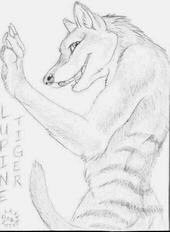 IN STEP WITH: Lupine Tiger:
This week we sit down to talk with Lupinetiger, local Tasmanian Wolf.
Ba'ar growls, "Thanks for agreeing to do the interview!"
Lupinetiger smiles, "Just hope it won't be a survey :)"
Ba'ar grins, "It won't be..Now then...Okay let's start. Our readers know about you and some have even met you 'in the pelt' as it were. For one thing, how long have you been here in Spindizzy?"
Lupinetiger growls, "hmm....think I wandered in here.....almost a year or two years ago...it's been a while I don't remember but when I did join, it felt like home :)"
Ba'ar growls, "so is it safe to say that you were a bit of a wanderer before you called SD home?"
Lupinetiger nods "And still am a wanderer. though I do tend to hang around here alot more than other places :)"
Ba'ar growls, "So what brought you to Spindizzy and influence you to choose it as your home?"
Lupinetiger growls, "well, actually something tragic happened when I used to call another dimension my home...sadly it started to become corrupted and just not a place to go to and not be on the defensive...in other words, the gods there were nice until they switched ownership with another fur who...." shakes his head, "well lets just say I wandered into another dimension with that same kind of god and they loved to backstab, chid, make fun of other furs, befriend someone only to turn around and do the stuff I said, and seem to be power hungry...."
Ba'ar growls, "So you come from another dimension? That would explain your presence here while your fellow Tasmanian Tigers have gone extinct."
Lupinetiger looks at ba'ar and smirks, "Actually we're just good at hiding ;) I just ended up lost in the lost woods when I was a youngster."
Ba'ar growls, "So there are more of you around? How hard is it to find one?"
Lupinetiger shrugs,"Don't know. I have seen a few myself but even I don't have much luck finding any :)" Ba'ar nods "So what's a typical day like for you-or is there one?""
Lupinetiger growls, ""Not actually. Basically wander, hunt, rest, find furs to chat with, rest and get ready for tomorrow to practice and do whatever...."
Ba'ar growls, "Who do you admire the most-in or out of Spindizzy?"
Lupinetiger hmms, "well I guess morticon due to having fun thwarting his evil plans but also giving ideas...kinda reminds me of babloma :D
Ba'ar growls, "Babloma? Who's he?
Lupinetiger smiles, "A good friend of mine I met when Wandering around, actually met him at the first place I tried to settle down at, but told ya what happened....Basically we threw invention ideas at each other, he had alot of great ideas and I agreed to be the fur to test some of those out. (trust me, I had the first hand experience with the peanut butter launcher) Still think it is interesting what we came up with. He helped me create a songbook, hoverboard that converted into a briefcase and the most fun thing of all...the garage door opener that flipped people upside down, letting gravity take it's course...." He chuckles, "Did find an interesting thing, guys and gals sometimes don't wear anything under dresses and kilts :D"
Lupinetiger growls, "oh, also got alotta change out of the deal too :)" to you.
Ba'ar growls, "So, Do you have any plans for the future?"
Lupinetiger growls, "not much but still hoping to find a companion for my player who is around his age and living in southern cali... Other than that, finding friends on here to have fun with, various meanings on that ;). Other than that, Still learn to be a healer through using pleasure and also plan other way of thwarting Morticon's evil plans.....oh...also trying to learn not to mav too much and work on my actions..."
Ba'ar growls, "If you had a chance to return to your home dimension, would you take it?"
Lupinetiger growls, "Actually I don't know where my home dimension is other than in the lost woods...umm, I wouldn't mind still staying around here than go back...timelines, and areas, don't matter in there though there is a hub spot..."
Ba'ar nods "What secret fact or desire about you would surprise our readers?""
Lupinetiger smirks, "Well, I walk the fine line of good and evil. My desire is to finally find someone that could fill me both here and in the real realm. You see, me and my player are pretty much one and the same, if he finally gets his own place... I guess another fact would be that with my player's last name, he should have chosen a raccon or a sneaky species than what he is :)...."
Lupinetiger growls, "Erm what I am now :) but being a shapeshifter helps somewhat :)"
Ba'ar growls, "Is being a shapeshifter natural to you or did you learn it?"
Lupinetiger growls, "Actually it's a mix of natural and re-learning it thanks to the Monks who lived in the lost woods, finding me when I was a kid. It's one of the ways thylacines hide ;D"
Ba'ar nods, "In closing, do you have any words of wisdom for our readers?"
Lupinetiger nods and chuckles thinking of something, "Well basically this: "_________(species name) are not extinct, we're just well hidden."
Lupinetiger hmms and looks at all the mirrors, "now where is that darned exit...."
Ba'ar growls, "Thanks for helping me out with this."
Lupinetiger growls, "no prob."