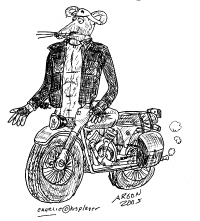 Hello and welcome back to In Step With, a series of articles about your local Spindizzy citizens. This week, we meet Charlie, local mouse/motorocyle.
Ba'ar growls, "Okay let's start. Our readers know about you and some have even met you 'in the pelt' as it were. For one thing, how long have you been here in Spindizzy?"
Charlie grins, "Well, I just got here a couple weeks ago, though I've heard good things about this place from friends."
Ba'ar growls, "It's a great place to be...very small and very intimate.."
Ba'ar growls, "What brought you to Spindizzy?"
Charlie says, "What brings anyone here? I was taking a long trip home and got somewhat lost, and ended up here."
Ba'ar growls, "It's a great place and I hope you've decided to stay."
Ba'ar smiles
Charlie grins back, "Oh, I have. Plenty of good people here."
Ba'ar growls, "Charlie, you're a curious combination of mouse and motorcycle. If you would, could you tell us how that came about?"
Charlie says, "Well, I was a pilot awhile back. Mostly stunt planes and vintage aircraft. During a show I lost control and crashed. I couldn't use my legs anymore so I went to a cyberneticist friend and had myself grafted into the bike you see here."
Ba'ar growls, "Did you always enjoy motorcycling? Is that why you chose to combine yourself with the bike?"
Charlie says, "Yeah. Mostly it's the combination of speed and grace, to me. Plus it's easier to get around in than if I grafted myself into an aircraft."
Ba'ar growls, "I was just about to ask about the advantages. Would you say the advantages include speed, grace and the ease of getting around?"
Charlie grins, "Yup. Though there are still times I wish I had gone for something more conventional like a pair of legs, I'm pretty happy with my bike."
Ba'ar growls, "Okay thanks. What are the disadvantages of having a bike grafted to your body?"
Charlie says, "Well, for one, I have to have the engine running constantly to be much use at all. Without the engine on I'm really slow and groggy. Then the smaller movements are harder or impossible. Ever try to sidestep with a pair of forword-rolling wheels?"
Ba'ar growls, "Good point. So how about fuel?"
Ba'ar growls, "Can you eat the same kind of food as before or do you have to consume a special kind of fuel for your motorcycle part?"
Charlie says, "Well, I do need some gasoline, but a good portion of my fuel comes from just what I eat. I do have to eat a lot more starch and protein now, but it's all good."
Ba'ar growls, "Interesting. So ..how have furs in general reacted to your form?"
Charlie says, "Well, back home a lot of friends and stuff were shocked. They wanted to know why I didn't choose something I could still fly with. Everyone else thought it was an interesting choice, but cybernetic replacements were fairly normal so it wasn't a big deal. Now here I find it kinda funny that I'm actually quite normal for the furs here."
Ba'ar growls, "I know. You'll meet all kinds here... Now then...What are your hobbies?"
Charlie shrugs. "I dunno. I like to keep up to date with aircraft tech still. I like to hang out, and meet new furs. I see myself as mostly a laid-back kinda guy."
Ba'ar growls, "If you were made Spindizzy's king, what changes would you make?"
Charlie thinks about that for a little bit... "Well... First I'd paint the crown to match my bike, a nice blue and chrome design, then I'd require that everyone completely ignore the monarchy and just take the crown as little more than a fashion statement."
Ba'ar growls, "Would you do any paving to make it easier for you to get around?"
Charlie says, "Nah. I do just as well off-road as on. Heck, it's more fun to bounce around on a nice rocky trail than cruise on a paved road, sometimes."
Ba'ar growls, "Do you have any plans for the future?"
Charlie just leans back a little against the back seat. "Just gonna make myself a home here and settle in on this world."
Ba'ar growls, "Good idea. Now then...a few more...What secret fact or desire about you would surprise our readers?"
Charlie thinks on that for a second... "That I can turn water to wine? No... Wrong person. Lead to gold? Don't know alchemy. I dunno, I guess. They'll just have to find out over time."
Ba'ar smiles..."One more question before we go...Do you have any words of wisdom for our readers?"
Charlie grins, "Words of wisdom? Don't pull into a high-G dive in a vintage plane unless you know that maintenance is up to date, and then some."
Ba'ar grins, "Good advice. That concludes our interview for the paper. Thanks for your cooperation!
Charlie grins and offers his hand, "Thanks for inviting me."