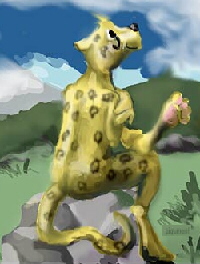 Spindizzy's weekly Bardic Circle (Poetry/Filk gather) met Friday, March 18, at 7:00pm Spindizzy time, at the Agora of the Ancients, moderated by Ray. In attendance, at varying times, were: Elizabeth, Rona, Findra, Nyako, and Scandal. Rona brought some soy flour and seaweed pastries baked by Clarisa, judged very tasty by those who sampled them, and Findra provided a yellow (ostensibly lemon-flavored) Jell-O.
Ray opened the session with an original poem, titled,"The Sea."
"The Sea" (10/22/01)
The Sea
Vibrant complexity and contradiction
Tempestuous, restless, tumultuous
Serene, untroubled
Eternal
Ancient, alien Mother
Lifegiver, Lifetaker
Jealous of her mysteries
Bounteous with her treasures
Whose boundaries are mapped to their greatest extremes
Whose profoundest reaches remain unfathomed
A world as alien as any to orbit a distant star
From which all life first arose
Lifeblood of the world
Alpha and Omega
Cradle of life
Grave
The Sea
Findra then presented a Haiku about Jell-O. Ray followed that with a Haiku about strength. Findra countered with a Haiku addressed to a Cetan. Ray returned once more to Haiku with "Winter Knives." He followed that with a companion poem to his strength Haiku, also titled, simply enough, "Strength."
Findra then performed the song "Jerusalem," by William Blake - 1757-1827. Ray followed that with another, original poem, titled, "Ditchweed Flower." Scandal then presented an untitled, extemporaneous poem, which began, as well as ended, "The flute cries wistful/To the lonely night."
At that point, the Moderator withdrew.
The next session will be Friday, March 25, from 7:00pm to 9:00pm Spindizzy time (luge S7 E4, [B]asalt [P]illars, [E]nter [P]ortal). All are welcome, either to read or just to listen. Check the eventlist for more details.
Notice: If anyfur would like to see any of the poems, songs, or filks mentioned in this or any previous edition of Spotty Journalism printed in its entirety in this column, please pmail Ray to request it. Space permitting, I will make arrangements.
-R.