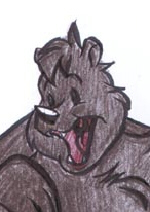 Welcome to latest edition of Bearing up, the advice column where Ba'ar (That's me!) has answers to your most challenging questions.
Dear Ba'ar,
Can't we all just get along?
--Unpeaceful
Dear Unpeaceful.
I guess not. We're too different.
Dear Ba'ar,
Why do we have traditions?
-History
Dear History:
So we don't forget the foolish acts we've done in the past.
Dear Bearing Up:
I've seen a commercial on TV for Charmin toilet paper showing bears in the woods who use the advertiser's product. I always knew that the Pope was Catholic and that (some) bears (go) in the woods, but do they really use Charmin?
Argon
Dear Argon:
No. Newspaper's MUCH softer and easier to handle.
Dear Bearing Up,
My computer runs slow. Should I buy more RAM, or just get a new computer?
B. Gates
Dear B. Gates:
Neither. Take it to the gym and put it on a treadmill.That'll make it run fast.
Dear Bearing Up,
How come the record companies sell such crummy music? When I could get it for free on Napster, I'd listen to some of it but now that they want me to pay for it I'm not going to. It's junk! What's wrong with those people?
R. Davies
Dear R. Davies:
They CALL themselves musicians..but they really aren't. It's a conspiracy by the record companies to get you to listen to and accept substandard music.
Dear Bearing Up:
Giant cockroaches are eating me out of house and home! I use bug spray on them but they drink it like soda pop. What should I do?
F. Kafka
Dear F. Kafka:
Call in Kagemushi the samurai cockroach. He'll help you by beating the tar out of the roaches that are invading your home.
Dear Bearing Up,
We are looking for a new spokesbear for Charmin Bathroom Tissue. Please contact us so we can sign a contract!
P. Gamble
Dear P. Gamble:
I'd love to boys, but when I consider how fleeting stardom is, I don't want to do it. Thanks for asking.
Remember possums (to steal a term from Dame Edna ;-D), if you have any questions,please page mail me (Ba'ar) online or send mail to big_bear@operamail.com. Thanks.