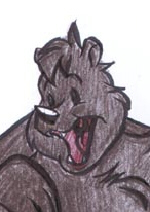 Welcome to latest edition of Bearing up, the advice column where Ba'ar (That's me!) has answers to your most challenging questions.
Dear Bearing Up,
My mother got me a set of bunny pajamas for Christmas. They have the ears and the fluffy tail and everything. And they're pink! I like bunnies, and I like pajamas, but these are kind of silly. What should I tell my mother? (By the way, I'm 38 years old, and don't live at home)
- Peter
Dear Peter: Get yourself a bunny to go with the pajamas.
Dear Ba'ar,
What's up with the tomatos in Big O? There are many theories, but no one seems to know for sure. I know bears know everything, so I thought I would ask you.
- Roger
Dear Roger: I think you've got too much time on your hands.
Dear Ba'ar,
As you know, I have a website with pictures and stories and other material concerning centaurs. I received the following e-mail, "are all of your female centaurs totally female using non transgendered female horses? Thank you! Dan" Having no idea what "Dan" is asking, I thought perhaps you could asnswer his question.
- Argon
Dear Dan: This is spam. Ignore it.
To Bearing Up,
How big is the brain of the average lemur? And why are lemurs so obsessed with zinc?
From, Curious
Dear Curious. The brain of the average lemur is the size of a pea. This explains why they're so dumb. In response to your next question, they need Zinc because of a lack of vitamins.
Dear Bearing Up,
I have a large pile of boxes and wrapping paper and ribbons. What should I do with all this stuff?
Signed, Ex-Christmas
Dear Ex-Christmas: Put away the boxes, wrapping paper and ribbons until next year. Christmas is over.
Dear Bearing Up,
Would you loan me $50?
From, Broke
Dear Broke: I will if you'll loan me $1000.00
Dear Ba'ar:
Why do we decorate trees at Christmas?
Signed Wallaby
Dear Wallaby. We decorate trees at Christmas to keep the trees in line with anti-obscenity laws. It's against the law to have a naked tree in Spindizzy, you know.
Remember possums (to steal a term from Dame Edna ;-D), if you have any questions,please page mail me (Ba'ar) online or send mail to big_bear@operamail.com. Thanks.