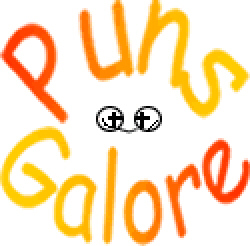 (Warning, some of the puns may be too intense for some viewers.)
(Reader discretion is advised.)
This reporter was present and took part of an non-honorable and too-often-continued cultural tradition of a pun slinging match. Other prime instigators were Kinsor, local Fruitat, and Ba'ar, local bear. There were a few other tertiary semi-combatants, namely Amabelle, local Glitter Mouse and Argon, local centaur and betrothed of this reporter. The subject of this punslinging was none other than Terry, local technicolor pangolin and nearby target.
The puns started off as being merely bad...
Kinsor skriters, "Mustn't Terry too long?"
Terry puffs, "I'll Terry you a new one."
Ba'ar TAR-rys and FEATHERS Kinsor and Mavra
Mavra will stop now as the puns are becoming Terryble.
Amabelle is gonna go into pun shock..
But Amabelle was caught in the crossfire and soon took a pun right between the ears, and proceeded to go into shock. It was then that the puns were becoming serious and more in-depth.
Terry stretches under scritches. "I have no comment at this time. Please contact my press secretary."
Mavra nods and goes to ask the secreTerry.
Terry puffs, "Ack! That was supposed to be a secret!"
Kinsor skriters, "Not secret, not rare, more of a commonTerry!"
You say, "ElemenTerry, my dear Kinsor."
Terry puffs, "The only winner is the non participant who's far enough away not to have heard about the event."
Mavra says, "Mimicry is one of the most sincerest forms of flatTERRY. Aha."
Terry glances upwards, watching for anvils.
Terry puffs, "Flattery is the surest sign of impending treachery."
Terry puffs, "Or recent treachery."
Mavra shrugs with both sets of shoulders. "Recent, impending, as long as it's only momenTerry."
Ba'ar growls, "Things are going from bad to worse...I guess if we picked up music...they'd be going from Bard to Verse."
Mavra says, "Yes, it's becoming unBa'arable."
Kinsor skriters, "And its a pain in the Bach, but thats overdone..."
Ba'ar grins at Kinsor "Get a HANDEL on things will ya?"
Mavra ohdears. "He's Terryfying!" O_O
It soon became apparent that puns were starting to fly off in any direction, catching hapless, hopeless, and helpless bystanders unawares. Some taking direct injuries, others by ricocheting puns that have glanced off of the foreheads of those understanding.
Mavra says, "No, but his politics tend to be Terrymandering."
Kinsor skriters, "He's frozen like a rock... a sedimenTerry rock."
Kinsor skriters, "...we don't need any of your derogaTerry remarks!"
Mavra says, "Ohno! I don't want to be sent to PurgaTerry!"
This reporter tried to render emergency first-aid to a victim of the punslinging who was trying to cover up her ears.
Mavra plugs Amabelle's ears up through to the alimenTerry canals. Kinsor skriters, "I'm surprised with all these puns, we haven't noticed the effects of dissin'Terry!"
Terry puffs, "I am a duck."
Kinsor skriters, "A diss' go duck?"
Vesper hides under a Terry-cotta pot! scared! Gilead chirps, "Gonna Terry-minate Mavra?"
Terry puffs, "No, I'm going to devour Argon."
Mavra says, "Careful, Terry, I'm engaged to Argon. I don't want you to commit adulTerry."
Kinsor skriters, "Its a reign of Terryor!"
Finally, a summit on weapons of mass punning was called and United Nation peacekeepers were brought in to keep the peace until it was agreed that multilateral disarmament was the best route to go. Under the watchful eyes of punning inspectors, authorities systematically destroyed all of the puns until none remained.