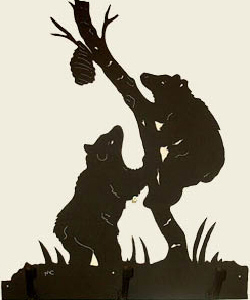 Local Bees, in association with the International Bee Association (IBA) have joined forces to control honey theft in SpinDizzy.
Buzz B. Bumble, spokesbee for the Old Oak down the lane hive, told this reporter that, "This action had to be taken due to the recent loss of inventory due to local Bears. Our group, and others are willing to assist those in need, but this Spring, the number of Bears coming out of hibernation seems to have increased. And many of these young Bears think they can just break hives and help themselves to our honey."
Mr. Bumble then went on to explain that the workers plan very carefully to have enough honey for the hive's needs, and enough surplus for trade. With too many hives having their honey stolen, the Bees are left short of needed supply, and have nothing to trade. Mr. Bumble continued, "In some cases, entire hives have been destroyed, leaving thousands homeless. The Queen has commanded that this must stop."
The International Bee Association, founded in 1932, has represented the interests of millions of Bees and garnered amazing results in most cases. Although the IBA refused comment on this story, a blooming Sunflower with a microphone in it set outside the IBA headquarters overhead a comment between two mid-level IBA managers revealing that fake hives with a combination of honey and Nair might be used.