Greetings and salutations, readers! This time we will be looking at those high-flying heroes who take to the air the old-fashion way: with a pair of wings! Whether they be natural or made of metal, feathered or leathery, it is the classic method of going aloft.
The most well-known of these is, arguably, Hawkman. Originally, Hawkman was one Carter Hall, an archaeologist who discovers he is the reincarnation of an ancient Ehyptian prince, Khufu. With the discover of the mysterious "ninth metal", which negated the effects of gravity, and the use of a harness with a pair of large wings, he would swoop down on criminals.

He would become a member of the Justice Society of America, and even got a partner in both crimefighting in Hawgirl, who was the reincarnation of his bride from ancient Egypt. In the Silver Age, he would be re-invented as policeman from the planet Thanagar, and his name would be spelled "Katar Hol".
He would come to Earth with his wife and partner Shayera chasing a criminal. They would adopt the Earth identities of Carter and Shiera Hall, and become curators of a museum.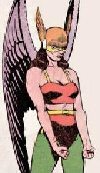 Again, he would become a member of the foremost crime-fighting team, this time the Justice League of America. Many years later, and after many alterations, the two origins were combined: Hawkman and his wife have been reincarnated several times, with the Carter Hall of the Justice Society being reincarnated as Katar Hol. It was also revealed that, as Khufu, he discovered a crash-landed Thanagarian ship.

In the far future, with the Legion of Super-Heroes, there is another winged hero, a beautiful young lady by the name of Dawnstar.
She is from a planet known as Starhaven that was populated by native Americians who were abducted from Earth in the 13th century by an alien race. The same race also subjected them to genetic enginering, giving them all a pair of white-featherd wings, giving them an angelic appearance.
In addition to this, she has an uncanny ability to track people and things, even over long distances. She could also survive in deep-space by generating a natural, self-sustaining environmental field.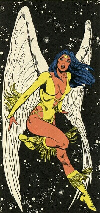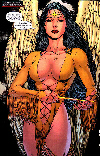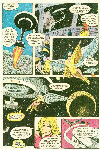 Often under-rated, she was really quite a valuable team-member.

Over on Marvel's side of the fence, they have a mutant named Warren Kenneth Worthington III. Born as the heir of the multi-billion dollar company Worthington Industries, he could lead a life of privilage and luxury. However, due to the mutant "x-factor" in his genes, he was born with a pair of feathered wings. When a fire at his college, he grabbed a costume from the drama department, and flew in. Thus began his carer as "The Avenging Angel",
which would lead him to becoming a member of the X-Men, his code-name being shortened to "Angel".
Later, after his wings were cut-off due to injuries suffered in battle, an powerful evil entity known as Apocalypse took Warren and offered to regrow his wings if he would serve him as one of his "Horsemen", specifically Death. He was subjected to extensive alterations, both genetically and mentally, gaining blue skin and metallic wings that could throw out "feather" knives.


Eventually, he would throw off the mental conditioning and become known as "Archangel". Even later, he would regain his original skin tone and feathered wings, though it has been discovered he can return to his Archangel form.
A bit lesser-known is The Falcon. Born as Samuel Thomas Wilson, he became a victim of an experiment done by the uber-Nazi, The Red Skull, being bonded with a falcon known as Redwing.
Captain America would rescue him, and together they would create the Falcon's new heroic persona, which would include a harness with a pair of wings that allows him to fly like his namesakes.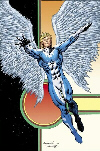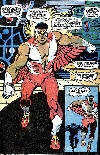 The current version of his suit generates "hard light" wings, and uses "magnetic drive" for thrust.

His internal powers have also gone from simple a mental link to Redwing to being able to link with any birds. A bit like being the arial version of Aquaman, which isn't as lame as some folks might think. After all, he has Captain America's seal of approval.
With that, it is time for me to fly! Remember, if you have a question or subject for future Four-Kolor Kitty columns, just send them winging over to me, PatchO'Black. Until next time, I'll see you in the funny pages!