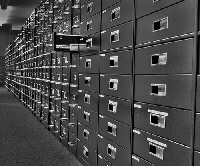 Here it is at last. The 400th edition of @Action News, including The Ferret and all the paper's incarnations.
I could go on and on about the paper and the fun I've had in my affiliation with it, but I thought it would be more fun to read about the effect @Action News has had on SpinDizzy and its residents, and their memories of SpinDizzy during all that time. So here are what some of the muck's staff and "old timers", have had to say:
---
Morticon --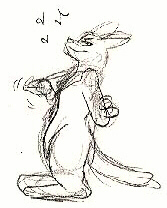 As a frequently featured infamous wallaby in the paper, it would be difficult to narrow down my most favorite item, but I have fond memories of the series of comics drawn by Boki about the SED and me.
It's fun being able to say I had a whole series of comics drawn about my (mis)adventures! Though none of them were true, I swear it! The plots were so much like something I would do, though, that I often wondered why I didn't do them first.
---
Vixie --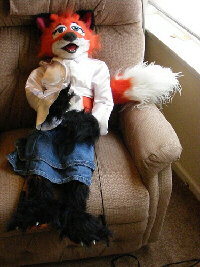 Hi all, Vixie here, the world's cutest fox. I've been asked to share my thoughts on Spindizzy here in the 400th issue, so here I go. I think I have helped make the place much cuter since my arrival. I mean, there were some cute folks here already, but not up to my level of cuteness. It's not too hard to be cute, but how many have world class cuteness? I know my fellow Spindizzians agree, as I was awarded the most cute award two years in a row. It's been a lot of fun helping make Spindizzy a more cute place.
I should mention it has been fun meeting everyone here, as most recognize my cuteness, and seem to enjoy it. One thing I have enjoyed is the amount of coffee and chocolate I have been showered with since I've been here. Those are nature's most perfect foods, and nice that everyone seems to like to award my cuteness with offerings of each.
In closing, I know I haven't been around as much as I used to, but maintaining this level of cuteness is not easy. Also look for a new look for me in the near future, it will be a lot different, but with that same level of cuteness and humility you expect from me. It has been a lot of fun, and I plan to help keep making it fun for a long time yet.
---
Mouser --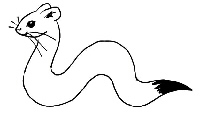 As most of you know, I'm one of the Spindizzy old timers, the hardy band of refugees from Toons, Fur & Fluff that migrated to this land in the depths of MUCK history. Argon asked me to name my favorite memory from the days here. It's a little hard to choose, but I think the most memorable evening I've spent on Spindizzy is that way more on account of Real Life (tm) than what happened here.
A few years ago a hurricane plowed its way up the East Coast from the Carolinas to Pennsilvania. It was my player's first experience of one, so, as a challenge, I decided to see how long I could stay connected to Spindizzy before the winds knocked me off of the Internet. As it happens, Butterfluff had the same idea. (We weren't neighbors, but didn't live that far away--DC and Baltimore areas, respectively.)
It was a long night, with winds howling around my player's house, and Butterfluff and I entertaining the Spindizzy crowd with tales of this mysterious RL phenomenon that seemed to be affecting just us two. I was posting updates from the US Weather Bureau website, and Butterfluff would crack jokes about "ents knocking on her door and trying to get into her house". Amazingly, we were both able to stay online the whole evening.
It was not long after that that we lost Butterfluff. One of the few regrets I've had about the muck is that even though Butterfluff's player and mine were within driving distance of each other, we never met. It's a reminder that Spindizzy friendships are just part of a greater whole that we shouldn't lose sight of.
---
Austin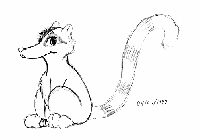 It's a special thing to have a newspaper. So far as I know -- and without actually doing the research -- only Spindizzy and Toons Furr & Fluff have managed it over any substantial time. TF&F had only a handful of issues, since it turns out to be harder to get people who aren't thinking of the fun of journalism to stop what they're doing and to write about what they're doing to deadline, and that's another bit of tradition which was handed down to @Action News when it began to organize in the post-catastrophe society of early Spindizzy.
One of the things that's remarkable about the early days of Spindizzy is to see how many of our cherished modern traditions were established within the first months of its opening: longwinded public meetings dedicated to establishing just why the muck isn't fun anymore, pleas for more events to be scheduled and more submissions to the newspaper, and the occasional article which I submitted anonymously and which was wholly made up. (There were others I wrote which were only partly made up, and some which were perfectly true.)
I don't know why I petered out from writing articles, exactly. Most likely it corresponds to leaving Singapore; I just don't quite have the time to myself to compose that I'd like anymore. I suppose that's a reflection of how it can seem like a chore to spend some of one's time living in reflection instead of moving forward.
Perhaps I just grow more foolish as I age, a thought which is unhappy but which I keep concluding must be so. The value of the newspaper is maybe not so obvious when one's regularly part of the evening (muck time) crowd and sees the things which most often get to be the lead for the paper, but when you are on the morning crew it's a wonderful way to get the sense of what one's missing. And even more the reading of old papers cuts through the years and brings me, at least, to remember just what it was like in those older days that seemed so busy at the time. The grand baseball game from May of 2004 I had thought I remembered as if it were yesterday, but the report (/newspaper200.htm) stunned me with the moments I had forgotten I knew.
Maybe the best value of the newspaper isn't the recording of the big events which we would be unlikely to forget anyway, such as the memorial services for Butterfluff and Aushae or the marriage of Mavra with Argon. It's in the preservation of those special little moments when one is surrounded by friends and enjoying the moments as they develop and doing nothing with any particular grander plan. No one of those moments seems like much but taken in aggregate they're life, and with them recorded we can touch forever the people who were in a time and place now removed from us.
It's been difficult keeping the newspaper going and I admire Argon's determination and perseverance. I'm very glad that for the overwhelming majority of this past decade he's been putting in the time and the energy to write much of, edit all of, and publish the @Action News. Perhaps the muck would have been about as lively and about as active and about as interesting without the newspaper, but many of its wonderful moments were lost to the onrush of new ones, and we're certainly the richer for having so many of them captured here.
---
Gilead --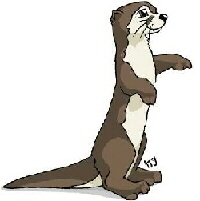 How It Came To Be That You May Sometimes See Gilead as Harbor Seal
I was still pretty new to SpinDizzy when we had our first themed weekend, Aquatic Weekend. Although I had planned to just stay an otter because it was improper for me to be anything else, Austin insisted I go as something different. I considered just not showing up at all. However, after thinking about it a while (and having a wonderful visit to Marine World) it occurred to me that according to the fossil record, harbor seals are descended from the paleo-otter Potamotherium. So I could be a harbor seal. But right as the weekend was to start, and I was about to change, a 50 lb. bag of emu chow fell on my left forepaw and crushed it. Being unable to walk then anyway, I got stuck as a harbor seal, flopping around like an inchworm on land, for several months.
Nevertheless, it was a lot of fun, and I've enjoyed several theme weekends since. And several more times being stuck as a harbor seal due to injuries too.