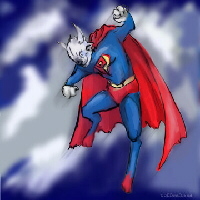 Hello and it is time for another dip into the Four-Kolor Kitty pool! This week, as recommended by Argon, we will be looking at the devices and inventions used by the Man of Steel, Superman. Now, given Superman's wide array of powers, he typically doesn't need to rely on extra equipment. In fact, most people I talked to couldn't remember one device associated with the Last Son of Krypton. Heck, when I asked, a lot of folks said "a typewriter", referring to Clark Kent being a newspaper reporter, or "a phone booth", which he used to use for changing into his Superman outfit and back. Yet, Kal-El did, from time to time, needed a little mechanical assistance.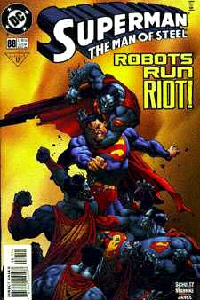 Take, for example, his Superman robots. These made their appearance during the Silver Age, and were used for two purposes. The first was, as they had been gifted with a similar set of powers as their creator, they would be used in circumstances which would be dangerous even for Superman. For example, if a rescue needed to be done near a chunk of green Kryptonite. The second purpose was to protect his secret identity. He has at least one robot disguised as Clark Kent, so that the robot could subsitute for is mild-mannered alter-ego. More recently, the new Superman robots were created during a period when Superman, under the influence of a cosmic villain, felt he needed to police the whole world at all times. These robots where not as life-like as the Silver age versions, but these weren't designed to be disguised as Superman, just to act under his orders. Each was also outfitted with a variation of the famous red, blue, and yellow uniform. Later, almost all of these robots were destroyed, save for one refered to as "Superrobot Bob", who acts as the caretaker of the Fortress of Solitutde.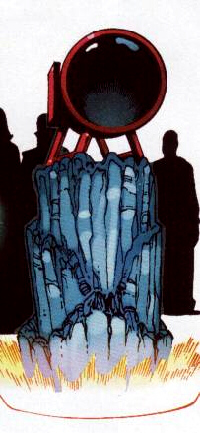 Another piece of technology that Superman called on from time to time is the Phantom Zone Projector. This device was originally created on Krypton and was used to banish extreme criminals to another dimension, where they were unable to interact with the physical world. It was used by Jor-El, Superman's father, to exile supervillian General Zod. Several other villains were sent there, though there was one hero that was sent there, Mon-El. Mon-El was a Daxamite, which means he had all the same abilities as a Kryptonian when exposed to a yellow sun, but instead of kryptonite, lead is poisionous. He meets Clark Kent when he is Superboy, who is forced to send Mon-El into the Phantom Zone in order to save his life.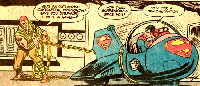 In more recent times, it was used to capture an army of White Martians, was ingested and regurgitated by the worm-like Mr. Mind, and was also incorporated into a suit to power the abilities of a hero known as Supernova.
Now, sometimes, Superman finds himself in a situation where he is powerless, but needs to perform some daring-do that he can't use a robot to get done. What does he do then? He uses the Supermobile!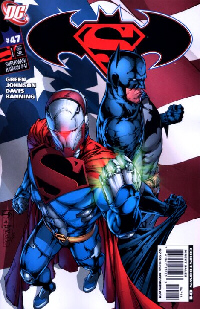 Created when the power-duplicating android Amazo attacked as Earth was bathed in radiation from an exploded red sun, this vehicle does three things. First, it protected Superman from the effects of a red sun or kryptonite.. Second, it duplicates his powers, including his various "vision" powers. Lastly, it makes folks point and laugh. Even Amazo could tell that this ride was not going to win any design awards.
Some other, more minor, pieces of equiptment included a ray to temporarly shrink Superman down in size so he could visit the bottled Kryptonian city of Kandor. For a while, he had a large Kryptonian war suit, which he used in battling extremely powerful threats. He has also been known to wear a lead suit when he needs to deal with green Kryptonite. This recently was updated in a story arc where, with assistance from Batman, Superman decided to try and remove all the Kryptonite from Earth. This refined version of the old lead suit was both more stylish as well as armored to provide Superman with extra protection.
And with that, we will close out this edition of the Four-Kolor Kitty. Remember to send in your suggestions for future columns by page #mailing PatchO'Black. Until next time, see you in the funny pages!