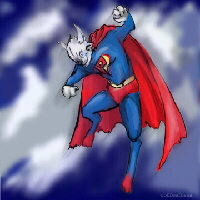 Welcome, readers, to another edition of Four-Kolor Kitty.
It's been another quiet week here, and since the page #mail bag was empty regarding suggestions of topics or questions, I thought I would do something a little different this week. I decided I would reach into one of my boxes of comics, pull one out at random, and do a review of it. This first time out, a little something from February 2000, JLA Showcase 80-Page Giant #1! This is collection of stories about the various members of the JLA at that time.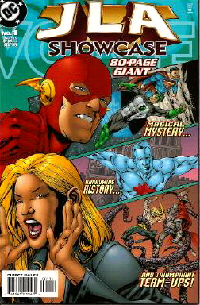 The first story stars the Green Lantern, Batman, and Superman in a tale called "Progress".
It opens with a group of scouts being given a tour of a nuclear power plant in Connecticut. However, the field trip gets an unexpected twist when a group of aliens show up, calling themselves the Hand of Krona. These folks set about "upgrading" the power plant, then the flora, then the fauna! When the heroes show up, Green Lantern is concerned as he knows who Krona is or was.
You see, the folks behind the Green Lantern Corps, The Guardians of the Universe, were once known simply as the Oans. Among them was a scientist named Krona who decided to ignore a warning that one should never try to view the formation of the Universe. When he did so, apparently it unleashed evil to all life kind. Anyway, the Hand of Krona ignored the obvious lesson of "There are things that mortals are not meant to tamper with", instead believing that Krona had shown that even mortals can reshape reality! This includes changing the aforementioned scouts into cyborgs, who are sent to stop the Justice League. The resolution of the matter is interesting.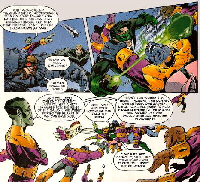 The next story is much more lighthearted as the JLA is forced to do something they really wish they could avoid: Leave their base, the Watchtower, in the pliable hands of Plastic Man!
If that wasn't bad enough, as the rest of the JLA is busy elsewhere, a group of canine alien warriors decide to issue a challenge: Fight them, or the world would be destroyed! Plastic Man has to battle the "Dogs of War"...or does he?
Superman, Batman, and Green Lantern return in the third story, this one with a rather spooky twist called "Space Wolf". A twist on the old werewolf tale, Batman has to find the solution to the mystery of a wolf found on the moon.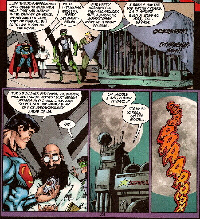 Aquaman, King of the Seven Seas; and Steel, armored tech genius, spend some time together in the Watchtower in "Communication Error".
Steel finds it hard to talk to Aquaman, as they don't seem to have much in common. However, when Steel's upgrade of the communication's system brings in a really killer computer virus, they learn to appreciate their differences and see where they have common ground. Aquaman also leans about fried pork rinds.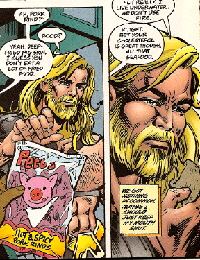 An unlikely match-up of the Black Canary and The Flash has them dealing with the even more unlikely evil male fairy called "Liverstains".
In true fairy tale style, they are challenged to compete against the dastardly magical villain, and if they fail, he will make them his dinner! Will our heroes beat this murderous fae, or will the be "Left For Pixie Dust"?

The next story takes place when there was a branch of the Justice League in Europe.
Led by Captain Atom, this tale tells of the good captain taken his then girlfriend on a date in Paris and, unwittingly, reviving a group of gargoyles from their stoney sleep.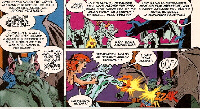 Due to a misunderstanding, and Captain Atom not speaking french, the gargoyles are forced to defend themselves against the JLE! This story is actually a parody of the Disney cartoon series, Gargoyles, and shouldn't be taken very seriously.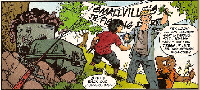 The last tale is "Toy Story", where a young boy's action figures inspire him to figure out how to deal with some bullies. It also shows how, at least in a child's mind, the super-villians can change sides and become super-heroes when they need to be. All it takes is a little imagination.
That's all for this week's Four-Kolor Kitty. We would really appreciate it if folks would drop us with a page #mail to PatchO'Black with a suggested topic or a question to be used for future columns, or even feedback on our past articles. Until next time, see you in the funny pages!