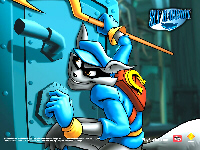 Its your lil gamer raccoon again, ready to bring you a new, classic game back from the depths of dust and despairity!
This time I bring up a lil classic vertical scroller. It started out in the arcade, swallowing up all of our quarters as we try to conjure up an event in US history, "The Battle of Midway".
However, instead of concentrating on the full effort, this game concentrates on one person in a P-38 fighter plane fighting against the FULL Japanese Navy and Air Force, the turning point of the war for the US Navy during World War II The year is.....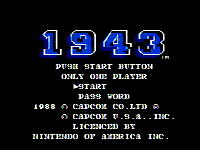 As I earlier stated, you are flying a P-38, your aircraft carrier, the Hawks Nest, was destroyed by heavy Japanese Bombing before the Battle of Midway. Now its time to kick some BUTT!
Your mission, to destroy Totaku, the Japanese Heavy Armed Armada with the Battleship Yamoto as its flagship.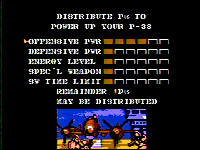 A majority of the battle is air-to-air with furious motion and gunfire. It will be hard to keep track of it all and the worst part is... you only have one life to lose. However to counteract this, the game implimented a life-gauge.
At the start of the game, you can choose what stats you wish to build up and throughout the game, getting the samurai lil pictures, you can even build up your plan stats even highter.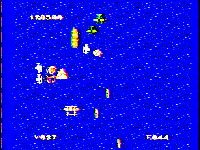 Eventually, you will start to face the sea battles against destroyers or aircraft carriersor against airfortresses in an attempt to bring down the Japanese fleet.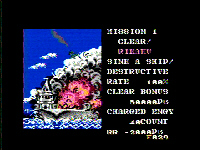 This game is VERY fast paced and will test your reflexes and your eyes. This game was on the opposite end of RPGs. You definately need to watch out for those stray small planes and bullets and you will cry out "WHAT HIT ME?!?".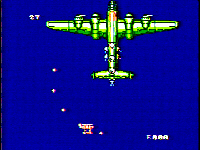 You also have the opprtunity to shoot down pinkish planes and get powerup weapons from a shotgun blast, machine gun, laser cannon, and some small health restorations. These can be amplified if you choose your stats well.
If you do not choose your stats well, this came can become hell pretty quickly and if you choose well and get the powerups regularly, this game will quickly become easier so choose wisely with your style of play.
You can choose your power ups from Offensive Power, Defensive Power, Energy Level (health), Special Weapons (how many different weapons you can gather from shooting powerups), and Special Weapons timer (increase the time for special weapons). The more you increase it, the stronger your abilities become.
The thing about this game is that you have to destroy more than 70% of the ships/planes or otherwise you have to redo the annoying level again!
The only thing I see bad about this game is that there are is not a two player mode. It would help IMMENSELY. However, for those with the "One Plane v. One Armada.. bet on the plane" ideal should go for it.
As for tricks.. there are two that I know of for the NES version....
First is hold the fire button and you can shoot out a short burst lazer. It is far more powerful but the charge time can be a "killer".
Here is a lil password I digged up... have fun kids ;) TY19U
Zoie.. the P-51 Mustang rider ^.^