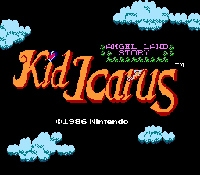 Hey Everyone! Its your lil raccoon again! Here I go again with this week's new article.
This time, I was "inspired" by a video on YouTube. Here it begins, you see Mario and Kirby starting to fight, followed by a myriad of other events and up above, in the clouds, you see the subject of my article... watching the battle unfold with a sudden explosion of darkness. Then you see a green haired goddess issue him a bow as he heads down into the battle.
However, the game I just mentioned is not my article. The one I am talking about came out in 1986 in Japan and 1987 in the US. The game I am talking about is...
Kid Icarus
According to the story, in Angel Land, it was once ruled by two goddesses, Palutena, the Goddess of Light and Medusa, Goddess of Darkness. Due to Medusa's cruelty, Palutena changed her into a monster and banished her into the underworld. However, Medusa refused to go queitly, she gathered an army and overran Palutena's army and imprisoned her. Medusa then taken the three treasures, The Wings of Pegasus, the Mirror Shield and the Arrow of Light, then giving them to her three strongest minions.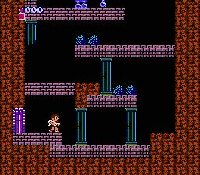 Palutena, sealed away, used the last of her strength to send Pit, a young, yet gifted, angel that was sealed in the underworld, her bow, and freed Pit. Then begins Pit's own adventure and mission, to escape the underworld and confront Medusa!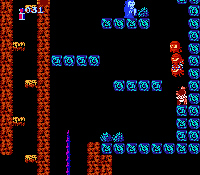 On your way, you face such enemies as the Reaper, if they see you, they send out a tune to call forth its minions to hunt you down. As you go further and reach the first fortress, you run into the Eggplant Wizard, who will turn you into an eggplant if you allow it to touch you.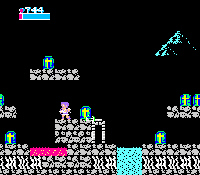 There are four sections of the game itself.. The underground, The ground level, The ascent and the Sky Palace itself. At the end of the first three sections, you will run into a fortress where you must defeat certain bosses and retain the Treasures of Palutena. Before each of these battles, you can try to free the trapped Centurions to aid you in this battle. Be VERY careful because this as well as other factors can affect the "multiple" endings!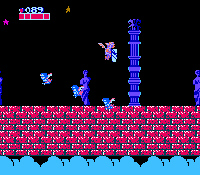 Upon your gathering each of these treasures, you set forth into the Sky Palace itself in full flight and armor. At the end of the nightmarish stretch you face Medusa herself!
While using your shield to reflect her shots and using your Arrows of Light to pierce into her eye while avoiding her snakelike hair, you eventually defeat her and save Palutena.
Now upon how well you performed, how many times you needed to do this as well as how many centurions and other items and score during your travels, Palutena assigns you a new rank. The best one being what his present form is in the Super Smash Brothers Brawl game, plus you get a very lovely kiss from the goddess herself.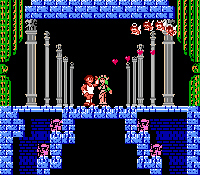 I really really want to get my hands on the Brawl game and a Wii to play it on. I never been much of a PvP gal, but I so want to get my hands on that cutie and beat em up with his bowsword.
I can't help myself.
Though this game was released the same time as Metroid, yet it holds a large amount of nostalga for many, especially the intro theme as well as the one for the start of the underground.
The below are the theme of the Theme, Underworld and Sky Palace ripped by Flying Omlette:
Title
Underworld
Skypalace
Well, enough of that for now. I shall end this with a small question.
As many of you know by now, I really came into my own as a gamer with the NES.. I am wondering if I should start to edge into the Playstation/N64 worlds since the PS3/Wii/Xbox 360....
I await your answers.
Zoie, the fallen angel raccoon.