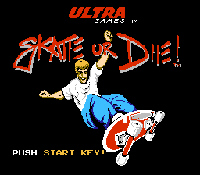 Here I am, once again, ready to delve back into the gaming of yesteryear.
I posted on my last article about what you would like to see. Well the votes are in.... NONE!
It kinda made me sniffle a bit but I guess people are pretty busy so I guess I will throw my own vote in. I choose "PARTY GAME"
Well, to me, a party game has to be a game where everyone can play and in rapid succession. The first one that comes to mind is............
Skate or Die!
That's right, 8 players of intense skating action. This game drove my brothers and his friends crazy when they got it. They spent many a night trying to outdo the other, with me and Misha sneaking on and eventually embarassing them to the point they get my momma to get me away (hehehe).
You start off looking at the start-up screen of someone racing down hard on his skateboard with a very high paced music, it almost gets you into the mood to shred some asphalt. To talk about the music, each portion of the game has its own particular music that helps you get into the mood even more. As in the downhill Jam, the pace is upbeat and gives you the mood to thrash your opponent or the semi-surf style of the high jump to urge you to get higher and highe
Well, now with the events!
High jump - by far one of the most difficult ones I've ever faced. You have to rotate the control pad as quickly as possible. The higher you go, the more points you score. Unless your thumb has the gamer callus, this will really drive you mad (unless you were one of the lucky few to have the NES arcade controller). You get a sweet hole in the ground if you cut too closely to the lip of the halfpipe. You only have 5 passes and you're through.
Freestyle - This is what most people think of old-school skateboard games. You have 10 passes to do as many tricks as possible. By pressing the button as rapidly as possible, you can grab insane air and pull off crazy stunts. Do not forget, you are scored on original tricks as well so there are many lip moves that you can do off the half-pipe as well (rail slides, footplants, handplants, etc). You score 10 original tricks, you can outdo most of your opponents who try to pull the HUGE 720 and 1080 tricks.
Downhill race - this is a one person going downhill as fast as you can go. There are many obsticles in the way that you can score points off of (ramps, pipes, railroad markers, jumping across an island, etc). If you fall off your board, you will be treated to the game insulting your ability! I suggest falling into the water once to just see you go in!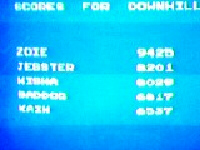 Downhill Jam - this is a major two player mode, going down through an alleyway to get to the end the fastest. Despite the many items you can break (cans and bottles), there are also object to avoid like fences, clothes lines and barrels. You also have the option to punch or kick each other off your boards. There are several "short cuts" to shave off those necessary seconds. At the very end, you are greeted by the police cruiser, ready to send both of your butts to jail. Show him who's boss by jumping over his car! You can also play this mode in single player and race down against Lester, more on him later.
Then here comes JOUST! Yes, the game my brothers loved more than the rest of the events. In an empty pool, two players duel each other, each having five passes to knock the other off with a pugel stick onto the hard pool bottom. You have only to knock your opponent off the board three times and you win. However, if you score a tie at 2-2, you go into sudden death. You will continue to tie/advantage until you can knock your opponent off two times in a row. In single player, you can choose to compete against "Poseur Pete" "Aggro Eddie" or "Bionic Lester" - Yes, the same one you competed with in the Downhill Jam. He is also the son of Rodney, the owner of the Skate shop.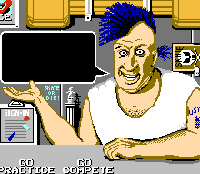 Getting into the skate shop is an overhead view in the middle of the screen. You can choose to go into the seperate events as well. Once you're in the skate shop,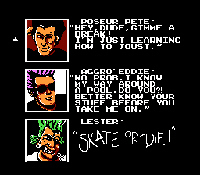 you can move the cursor over anything in the shop and Rodney will give you a very interesing comment about it as well as him giving you a hard time about looking at him in the eyes or his hair. You can set up the two player competition mode from here as well as look at the "top scores".
This game was the first party game my family ever gotten. This has caused many an arguement in my home because my friend and I would try our best to make my lil brother look bad in front of his friends. We were eventually "banned" from playing because we wouldn't let them win (and to save my parents a fair share of yelling).
This game came along right when the skatebording scene was starting to gain massive popularity. There are many out there who have their own extreme sport game now, such as Tony Hawk, Dave Mirra, Ricky Carmichel, and many more. This game however brought competition into the household that went beyond the normal sporting games where you could only play as two players.
I shall try this expriment again. So what shall the raccoon try next week... Pre-NES, NES, or post-NES game?
Well, until next week, dust off your old systems and give em a whirl
Zoie, The Lester Fence Shredder brand!
For an additional "double vote" the first preson who can tell me what was the earliest running system that displayed this game gets two votes for their pick of article next week