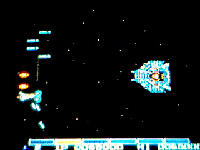 For those who read last week's article, I thank you.
Now for the meat of the story. At the end of my "article" last week, I mentioned that the next article would note a very famous code. For those in the "know", it would be the most famous one of them all, "The Konami Code". That's right ladies and gentlemen, I am about to do the game that made that code famous. To all those "Fan Boys" that are screaming,"She's gonna do Contra!!!!", I have to burst your bubble. I shall indeed to a game featuring that code, in fact, the first game, Gradius!
I have always been a fan of the side-shooter space ship games like R-Type, Darius Twin and so forth. However, the game that introduced me to it was "Gradius".
This game popularized two things: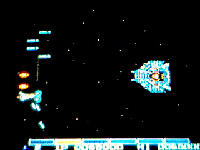 1. The "Shoot to the Core" - This is in fact a royal pain in the butt! The bosses are designed that you HAVE to shoot into a very small area to strike its fatal point. This in fact was a great challenge to many as they try to evade the attack patterns of the enemy bosses. Gradius in fact multiplied this danger by adding various elements with barriers so you can not strike it so quickly. There was also a small "cheat" that if you could kill the bosses in less than 5 seconds of the core going "active", you would be able to skip a level. Upon hearing this, Misha, my two brothers and I tried our butts of to do this trick. This lead to "many" unnecessary deaths until we mastered the controls.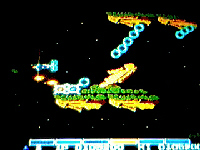 2. The "purchase item/power meter" - This was in fact pretty revolutionary for its time. Upon collecting "orbs", you were able to power up your ship from speed increases, to weapons and pod updates to having the nice spoiler of a shield. After maxing out your weaponry, you could still do a small trick with the orbs. If your points had a 5 in the thousands place, if you got the "reset" orb (the one to put the weapons highlight from the last to the first spot), you would get a points bonus. This in fact came in handy when you're trying to get that "extra life" you desperately need.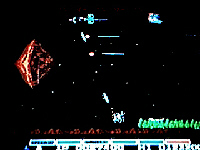 3. The Konami Code - Yes, this is where you put it in. You pause the game and push in that infamous code of Up Up Down Down Left Right Left Right B A Start and BAM, you would have all your Options and shield. You would only have to choose between double and laser.
This game, among many of Konami side scrollers of the area, were a shooter's paradise and hell! There were quite a few things to shoot at as well as those that were shooting back at you. You had to have the eyes of a hawk, the agility of a spider monkey, the intelligence of a wolf and the insanity of a suicidal lemming to get far in the game.
This game featured many different types of ships (from mechanical to biological) to terrains (from volcanic landscapes to Easter Island nightmares). For any who does get past level three without dying once, I do salute you!
This game had many sequels, to me the best being its second incarnation, "Life Force". It featured many of its predecesors good items and built upon them: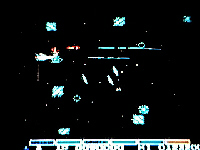 1. The first being new weapon. The first I should metion right off is the "nuke" which most Gradius first timers would see this as a "GOD SEND". Instead of dropping your shield and going back to the "Speed up". It gave you one extra weapon. When things got a bit too hot for you, you press the nuke button and BAM, kiss goodbye to the enemies! The second would be the "ripple" lazer. This would be a more "spread" style weapon that helped keep the smaller enemies at bay. This would be very helpful during some levels, though a bit of a pain with the bosses.
2. Would be by far the best - Two Players simultaneous. This gave you the best of both worlds. For those who did play Contra, you would understand what I am talking about. This literally cuts the amount of enemies you had to face in half, yet it also cut down on the amount of orbs you could get. However, with enough skill and teamwork, both can get enough orbs for their weapons and nuke fairly easily.
3. Above ship view - The inclusion of this also brought back memories of such games as 1943 and Spy Hunter. This little change up made the game interesting (or annoying for some people) and kept it fresh.
4. The Konami Code - Yes, this game had it as well. Instead of boosting your weapons to full, this would give you 30 lives. This would be very helpful for those trying to beat the game instead of doing it for real with the regular 3 lives. Misha and I would be able to do it with the original 3 lives after a few.. "continues". Though whenever my brother had his sleepovers, Misha and I would purposely do the 30 lives and play our hearts out and annoy them to no end.
Although some "purists" would mock me for calling the second one "Life Force" when in Japan, it was called "Salamander" and it wasn't a true sequel, more of a "spin off".
There were 4 "true sequels" of Gradius, many of which did not see the light of day until the SNES or the Playstation brought it over. They kept the "old-school" shooter game alive. There has actually been a revival of the "old school" shooters as some developers are going back to the side scroller. This keeps the younger gamers something nice to play while keeping the "old schoolers" that were brought up in the old Atari/NES days a bit of nostalgia and play again.
Don't get me wrong, games like "Gradius" are not games you can just pick up and play, This takes time, patience and strategy to master. There will be many times where you WILL scream "HOW DID THAT HIT ME!"
Trust me ladies and gentlemen, its a great game and it will pay off in the long run to master it for when you do, many games will be easier for you to master. This series has many great games and you will not be disappointed. I recommend a lot of "night" playing myeslf because since it is a space shooter, the darkened room will only enhance the sound, music and vision of the game.
Zoie the Option user
For the next article, I give you a choice. Do you wish for me to write about the game that defines "pain and suffering" or the game that does define "pain yet it was one of the first party games for the NES".
Just "page #mail Zoie" your answer.