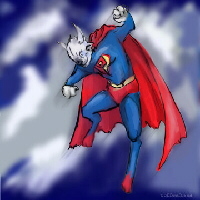 Greetings and welcome to another edition of the ol' Four-Kolor Kitty. When you are a super-hero, you have to be prepared for several unique situations. One day, you may be stuck in the past, another you're archenemy is now your best friend. However, one of the most unusual things that can happen is that you suddenly find yourself changing genders! This time, we will be looking at some of the times when super-heroes become heroines!
One of the earliest cases of a super-hero showing his feminine side was in Superboy #78, in which the Boy of Steel manages to offend a lady alien named Shar-La. She zaps him with rays from her ring, and soon the Last Son of Krypton becomes its Last Daughter! So, she changes her secret identity to Claire Kent, cousin of Clark, and announces to the world that she is Superboy's sister, sporting oh-so-clever name of "Super-Sister"!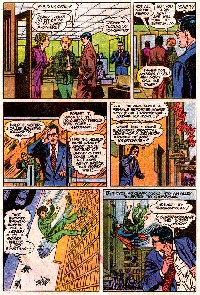 In the end, it turned out that this adventure was actually an illusion created by Shar-La to teach Superboy a lesson about women. Of course, that wasn't the only time Kal-El had to come face to face with a female version of himself. A later story during the fabled Silver Age period of comics, Superman returned from one of his several missions to space to find the world had changed, gender-wise.
This world included transgender versions of everyone. In the end, however, it turned out to be the creation of Mr. Myxzptlk. Once Superman figured that out, he wraps things up in a couple of pages. However, this story must have been remembered by at lease a couple of folks at DC Comics, because in the current DC Multiverse, Earth-11 is the home of various gender-swapped characters, such as SuperWoman, BatWoman, and Wonderman.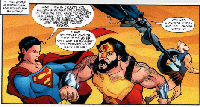 Another hero to find himself dealing with gender-issues is one Guy Gardner. While usually wielding the power-ring as a Green Lantern, there was a time when he was endowed with limited shape-shifting powers, calling himself Warrior. However, one of his more twisted enemies known as Dementor,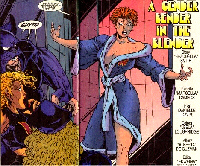 decided to hit Guy were it hurt. See, Guy Gardner prides himself on being one manly man. So, he wakes up one day to find himself with a little more here and a little less there, body-wise.
There have been a couple of cases where some other shape-shifting characters have taken on female forms, but I think I've picked on DC's characters enough. Let's go over the fence and take a look at a couple of Marvel's heroes who suddenly found the need to redo their wardrobes. First, we will begin with that true he-man of a Norse god, Thor. Thanks to Marvel's fabulous habit of asking the question "What if…?", we get to see to femme versions of the hammer-wielding storm-maker. First, we get to see what would happen if Donald Blake's love-interest Jan Forster had found the staff that changes into the mighty Mjoir!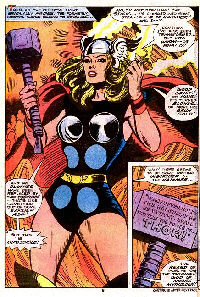 At the end of this tale, however, the hammer is returned to Donald Blake, who is really Thor. However, Jane gets awarded her own goddess-hood. And Odin makes a pass at her! However, a second later story looks to see what would happen of the mutant heroine known as Rogue happened to get a hold of Thor's powers? Well, first she goes on a rampage, and then eventually become the goddess of thunder, of course.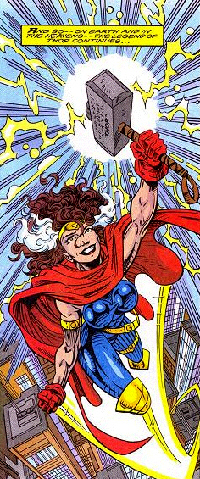 Lastly, for now, we will look at the case of Walter Langowski, member of Canadian super-team Alpha Flight, and better known as the orange-furred powerhouse called Sasquach. However, at one point Walter died. Then his teammate, called Snowbird, died. Snowbird could change into various creatures of the Great White North. Then Snowbird's body was brought back to life by a villain, but without a soul. So, to stop their friend's body from being used for evil, they put in the spirit of Walter. Unfortunately, this meant that Walter now became Wanda.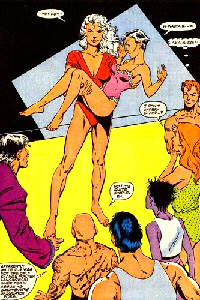 Fortunately, Wanda was a good sport, and managed to actually enjoy herself as a female. However, as with most changes of this kind, this was temporary, and eventually, Wanda became Walter again.
And that will wrap up this wacky little look at comics. Remember to send in questions, topic-ideas, or feedback to Patch O'Black. Until next time, see you in the funny pages!