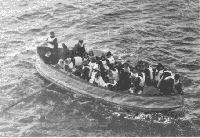 Imagine you are in a lifeboat. There are a number of folks in the boat all with oars and the ability to use them. Now imagine this lifeboat is being moved along by one person. All the rest let their oars lay on the floor of the boat, and rest their hands in their laps. Once in a while, one of the other passengers dip their oars in the water and row for a bit, but they soon stop and leave the rowing to one person.
In a sense, I feel I am that "one person". With the exceptions of Ba'ar, Gilead and Patch O'Black, who provide feature articles each week (Ba'ar's survey, Gilead's puns, and Patch's Comics column,) the vast majority of actual "news" about things that happen here are written by me.
This week, in the Rose Garden alone, I, along with a number of others saw Patch's announcement of being named "Chief Jellicle Cat", a discussion of how to measure half of infinity, Suri's idea of putting wheels on me, setting me on fire, and jumping over the Rose Garden, along with the ending of the election. These are just the newsworthy items I witnessed. Surely other equally interesting things happened in the last week, but as of this writing, I'm unaware of them.
When I became editor of @Action News, my view of the paper was for it to be an outlet for the creativity and abilities of the folks on SpinDizzy. You can't go to the Rose Garden without hearing someone talk about a writing project, or seeing a drawing they've done. The paper was to be a forum to display these talents in the context of news and cartoons about the events on SpinDizzy. I had hoped it to be a multi-faceted view of the goings on here, not just a report of what I had seen or done.
More often than not when I ask for a contribution for the paper, I'm told, "I haven't seen anything", "I can't write," or, "Sorry, I'm too busy." Believe it or not, I too have a real life. I have a job, a home to care for, friends and neighbors, and activities outside of SpinDizzy. Yet in spite of these responsibilities I find, no, I make the time to write three or four news articles, find illustrations for them and more often than not, draw a cartoon for @Action News each week. My drawing and writing skills aren't all that good. Certainly there are many folks who can do as well or better. Yet the venue of the paper never see their work. If I can manage all that, certainly there are folks that can take a half hour to write a couple paragraphs about happenings here.
I enjoy writing for @Action News, but by writing most if not all of the news articles, it defeats the purpose of the paper. So, to get to the point, here is what's going to happen.
From now on, the majority of news articles will be those from sources other than myself. I will write some, but if I write one article, I'll expect two from other writers. If at least two news articles aren't recieved, either page #mailed to me, or e-mailed to newspaper@spindizzy.org, no paper will be published that week. Cartoons may be sent to the same e-mail address.
If you enjoy @Action News and want to see it stay afloat, you may help by picking up an oar, or a pencil or your keyboard, and help it move along. With the majority of news and features by others, @Argon News can return to being @Action News.