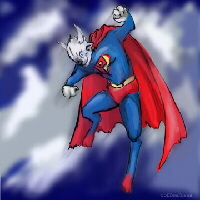 Atten-shun! Time to fall out for another edition of Four-Kolor Kitty. This time, in honor of Veterans Day, we will be look at the super-heroes of World War II. So, put on your helmet; we are going in!
Oddly enough, during the actual war, you would think the super-heroes would be sent into the front lines. In fact, Superman should have been able to finish the war in a day or so. Actually, there is a very short early Superman story that shows the Man of Steel abducting Adolf Hitler as well as Josef Stalin and taking them to Geneva to stand trial. This story was done before America entered the war and, of course, was quickly dismissed in later stories, as obviously Hitler was still in power. Also, as war makes for strange bedfellows, Josef Stalin became our ally against the Axis, so it was probably best at the time for that story to be quietly forgotten.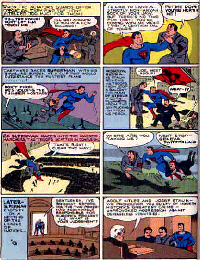 Obviously, there had to be a reason that Superman didn't become America's greatest member of the armed forces. This was done in classic Golden Age style. When Clark Kent took his physical to see if he was eligible to join up, he accidentally used his X-ray vision and read the eye chart in the next room. He was classified as 4-F and thus would not be freeing Europe any time soon. However, that didn't stop DC from showing him on the cover doing such things as destroying Nazi subs, tying tank barrels into knots and, a personal favorite of mine, grabbing onto Hitler and Japan's Emperor Hirohiro by the collar of their shirts, giving them a stern look.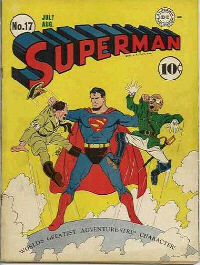 Batman was also active during WWII. However, he chose to stay mostly in Gotham, probably because of his need to maintain his secret identity of Bruce Wayne. Still, he fought saboteurs and enemy spies on the home front. Meanwhile, over on Paradise Island, an American pilot by the name of Steve Trevor, crash lands and is nursed to health by the Amazons. Princess Diana falls in love with the American intelligence officer, so when one of the amazons is to be selected via a tournament to go to "Man's World" to fight the evil Axis forces, she participates against her mother's wishes and is selected to become Wonder Woman. She disguises herself as a nurse, Lt. Diana Prince who just happens to not only look exactly like her, but shares her first name. This allowed her to overhear information that would allow her to spring into action.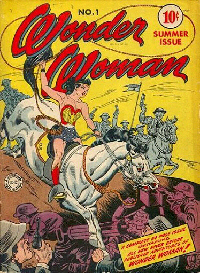 DC Comics then decided to take a group of their characters and form them into one crime-busting team. This was made up of mysterious gold-helmeted Doctor Fate, Hour-Man who got an hour of super-strength and speed when he takes a Miraclo vitamin pill, the spirit of vengeance known as The Spectre, the sleep-gas using Sandman, as well as the original versions of the Atom, the Flash, Green Lantern, and Hawkman. While Superman, Batman, and Wonder Woman were considered honorary members, they did not appear as part of the team, as they were busy with there own comic book titles. Again, this group worked mainly in the United States and did not battle on the frontlines. No good reason for this was given at the time, but later it was established that Adolf Hitler had gotten a hold of a magical weapon known as the Spear of Destiny which would cause the JSA's most powerful members to become his pawns if they were to step into an area controlled by the Axis powers.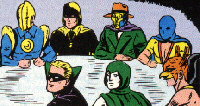 This, however, happened during the actually time of World War II. Since then, there have been other comics that are set in the era. Marvel, at that time known as Timely Comics, in 1946, came out with a team of heroes known as the All-Winners Squad. Later, this was retconned (retro-fitted continuity, where stories are written as taking place before stories that are already published) to be the post-war version of two teams: First, The Invaders was made up of Captain America; his kid sidekick Bucky; the first Human Torch, who actually wasn't human but an android; the Torch's kid side-kick Toro; and Namor the Sub-Mariner who was too darn snooty to have a kid side-kick. They were later joined by English superheroes Union Jack and Spitfire as well as Miss America and The Whizzer, the last one probably regretting his choice of code-name all during the war.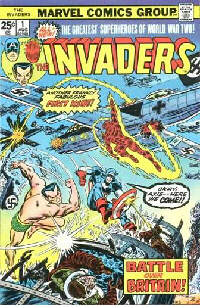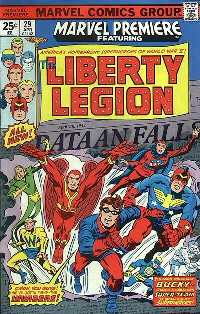 The Second World War II team was actually created due to the Invaders being captured by the evil uber-Nazi, The Red Skull. Bucky, that plucky young partner, managed to escape and brought together a group of second-string super-heroes of the time to rescue them. In addition to the afore mentioned Miss America and The Whizzer, they were joined by the icy Jack Frost, the near-invulnerable Blue Diamond, fighting man The Patriot, winged crime-fighter Red Raven, and, lastly, comic's first stretching super-hero, The Thin Man, no relation to William Powell.
DC has, also, played the revised history game. In 1981, they decided to revisit World War II and created one of the biggest collection of Golden Age superheroes ever seen. This brought together members of the Justice Society of America and two smaller teams (the Freedom Fighters and the Seven Soldiers of Victory). At the request of President Franklin Roosevelt after the bombing of Pearl Harbor, they became known as The All-Star Squadron. Headquartered in the Trylon and Perisphere of the 1939 New York World 's Fair, this group fought the good fight on the home front. As mentioned before, they couldn't battle the Axis powers in Europe or Asia due to that darn Spear of Destiny. Notable members of the All-Star Squadron were Johnny Quick, who gained super-speed and flight when he recited a special mathematical "speed formula;" Liberty Belle, who really didn't have any super-powers except getting an adrenaline boost if someone rang the real Liberty Bell (which a night watchman would just happen to do at just the right time); Tarantula; and Amazing Man. The last two, I find particularly interesting. Tarantula, as his name suggests, had a spider-theme using suction-cups on his boots to walk on walls and a "web-gun" that fired out a fast-hardening nylon. Yes, it does sound like a poor-man's Spider-Man; however, the reason he was doing the super-hero thing was very original. See, he was really a novelist who was doing this to research a book on the cape and cowl set. That's right, he was risking life and limb just so that he could get a book published! Now, that's dedication to one's writing! Amazing Man, on the other hand, had the remarkable power of being able to become whatever material he touched. Touch some bricks, and he's a powerhouse; touch some copper wire, he can conduct electricity. What made him a standout member of the Squadron was that he was African-American. Considering the time-period the stories are set in, it made for some interesting interactions among both fellow heroes and common people.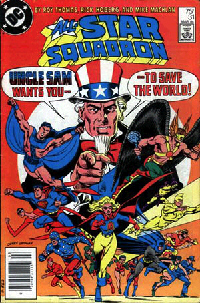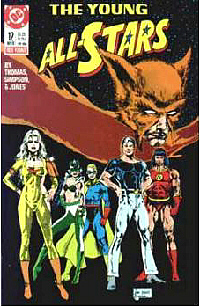 Another interesting item about the All-Star Squadron is that, during its run, DC did their groundbreaking mini-series, Crisis on Infinite Earths. As the All-Star Squadron was on Earth-Two, which was merged with other remaining Earths into one single world, it forced the writers to deal with the fact that, in the revised history, Superman, Batman, and Wonder Woman no longer were around in World War II. When the series ended, a second series called Young All-Stars introduced a group of young superheroes intended to fill the gap in history left by the now-erased heavy-hitters.
I would just like to mention that I was recently informed the Marvel Comics has been publishing a new comic book series exclusively for the armed forces. One of the recent issues has the now deceased Captain America, requesting on a pre-recorded video tape, that the Avengers protect a soldier and her brother.
And there is a brief review of super-heroes at war! For now, the Four-Kolor Kitty is standing down. Till next time, see you in the funny pages!