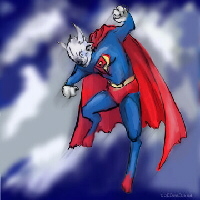 Greetings, readers, and I hope you still have your interdimensional passports on hand! This week, we are continuing our look at alternate universes with a look at Marvel's own version of the multiverse. Put your seat trays in the up-and-locked position. This is going to be a wild ride. Now, last time, we talked about the DC Multiverse. While it had quite a number of alternate Earths, timelines, and variations on a theme, Marvel's own multiverse is at least as diverse, though crossovers are rarer than in DC's little playground.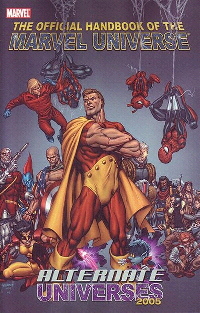 Most of these worlds came about from a nifty little series called "What If...?". "What If...?" featured the cosmically powered alien observer, Uatu, slightly better known as The Watcher. Living in a big home-base on the Moon, he watches over the Earth in the main Marvel universe and, apparently, can peek into a number of alternate universes. These comics, as the name suggest, would ask a question that changes the outcome of an event in the known Marvel timeline to see how things would have played out instead. The first, for example asked "What if Spider-Man had joined the Fantastic Four?", based on an issue were Spidey, needing money to help out good old Aunt May pay the bills, tries to join the F.F. In our world, he learns that the F.F. are strictly "not-for-profit",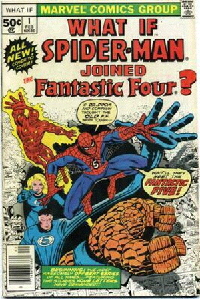 but in the alternate, Sue realizes that Spidey isn't just trying to cash in on his powers, and Reed admits he has thought about ways to allow his teammates to have a little extra pocket-money. Later issues asked such questions as "What if Captain America hadn't vanished during World War II?", "What if Doctor Doom had become a hero?", and "What if Phoenix had not died?"
However, "What If...?" stories are not the only way that the Marvel Multiverse got new places added to the list. Sometimes, Reed "Mr. Fantastic" Richards would grab his wife Sue, her brother Johnny, and his best friend Ben Grimm, pile into one of latest, greatest inventions, and go for a spin into other dimensions. In one case, they found a world where America and Russia were still fighting a cold war that was about to go nuclear-hot,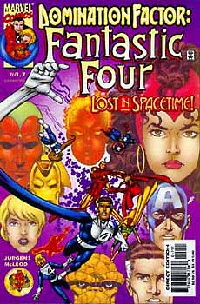 as Stalin appeared to still be alive! Also, on at least one occasion, Reed used a special device he invented to contact his counterparts in several other universes when he was faced with a problem that he couldn't solve alone in the time required. You may now insert a joke about "Reed talking to himself" here.
Another series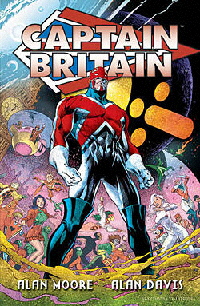 that introduced more alternate universes was one starring a little character called "Captain Britain". As you can tell, he is the champion of the United Kingdom, and is actually quite a well-written character. What does he bring to the dimensional party? Well, it turns out that he is actually part of the "Captain Britain Corps", with counterparts on various worlds. A niftly little twist is that each member of the Corps enforces the moral code of that world. On a more natural-minded world, it might be illegal to destroy a flower. On another world with organized "mobs" ruling, murder is considered an appropriate means of punishment.
There are a few alternate realities that came about simply as mini-series and other experiments in story telling. A big one was what was known as the New Universe. The idea for this universe was to make it more realistic than the Marvel Universe. Something got damaged? It stayed damaged until it could realistically be fixed. One year in the real world would equal one year in the New Universe. Unfortunately, while the characters and ideas were good, that whole "happening in real time" thing sort of caused problems.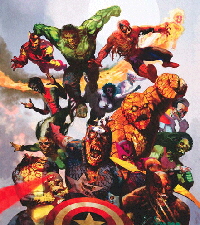 More recently, there has been the Marvel Zombie series (named after the nickname for the more extreme fans of Marvel comics), where a plague causes the various costumed heroes to become undead flesh-eaters.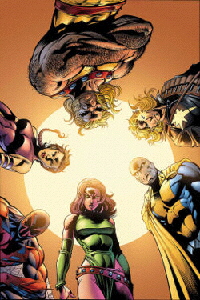 Mind you, they still retain much of their intelligence, given to such lines as "At least, Zombie Spider-Man, you had your amazing friends for an amazing breakfast". However, in all of these series, none of them really took advantage of the whole Marvel-Multiverse.
That has changed with a series known as "The Exiles". In this comic, a group of aliens located outside of normal Marvel time-space pull together a team of heroes from various Earths. Their missiongo various versions of realities which are about to collapse due to various reasons and set things straight before things go so wrong that the whole Universe will go poof! This group has traveled to several new worlds, as well as revisiting worlds put forth by What If...? and other series. Oh, and in case you are wondering, Marvel's main earth? Earth-616. That's right, they are not Earth-1, but they try harder!
There is a quick tour of the Marvel Universe! Join us again in about 7 days, and remember to send in ideas and questions for future columns. Until then, see you in the funny pages!