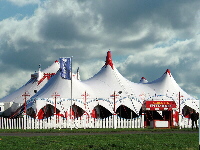 Kern, local clockwork Inca tern, arrived in the Rose Garden this week very excited.
Kern flapped its wings and hopped around, "Wonderful and extraordinary news of the most fantastical kind!" Kern then hopped over and landed on top of Natasha, local cartoon coati! "Come one, come two, come eleven! Rejoice! Good news! Hooray for everyone!"
With the group's curiosity raised, Austin, local coati, sat up and watched Kern and asked. "What is?" To which answered, "The circuits is coming to town!" Thrills and excitements! Amazements and rides!"
Argon, local centaur said, "I can feel the electricity in the air." Niran chuckled,"Either that or someone has some static cling to em."
DTF pondered "Well, if you can feel it, the rest of us are safe. You're the tallest object apart from the Oak. Lightning will get you instead of us." Natasha said, "Is it a Continental Circuit?"
Kern pointed its beak at Natasha, "See! The amazing fastastic ringlytailed rampaging creatures! Ride the fastest shinytail in the world! Stop in at the amazing slideshow and see the features!"
Austin said, "I can't wait."
Kern said, "You have to wait silly ringlytail, the circuits isn't in town yet, it's coming! It's coming!"
Austin said, "One if by land, two if by sea?"
Kern said, "Nope nope nope it's coming by HERE!" Kern wing-hugged Natasha on the tail and said, "I can see all the sensible ones of you are senselesly stricken with silence at the circuits!" Kern beak-tapped Natasha, "Then we can count on you for being with the circuits as a feature show!"
Natasha opened an umbrella over Kern. "Right on top? Hey now, I'm no acrobat... uh, I mean, even if I *did* pull off some pretty daring leaps last time Jaxen was chasing after me.
Toledo said, "Isn't the circuits already in that other place. SP-something-R-other?" Kern says, "Nope fluffytail! The circuits is traveling to here from there now! It's going to be the biggest thing since the flood of yarn!"
Austin said, "The flood of yarn?"
Toledo said, "I'm not knit picking, but I do think he's pulling my string." Kern said, "It was terrible, on the older buildings you can still see where the high-sweater mark was!"
Toledo said, "The flood of yarn? Somebody cut loose that big ball they have some where in Minnesota?"
Kern said, "Nope nope nope that we never let out of the flood banks." But now you're being silly it's the circuits coming to town! The Ringlytail Bothers and Burnish & Baling Circuits!"
Kern bows now, "Now if you are all suitable odd we can answer some questions if you have them about the good news! Ing will answer when it gets back from telling the other garden!"
Toledo said, "Will these be open or closed circuits?"
Kern rotated its head to look at Toledo. "Yup yup yup open all day and night except for when it's closed like during the times for re-winding everything!"
Toledo chuckled, "Fair enough I suppose. Open circuits are safer to visit and poke around it, after all.
Kern said, "Yup yup yup you don't want to be attacked by a surprised and vicious pinfeather-eating gabbelon for instance!"
Argon asked, "Will there be capacitor candy?"
Guest2 said, "only the fluxgate flavor."
Kern said, "Oh well brushytail that's going to be extra from the concessible stands and sits."
Toledo said, "Those juiced-up Edison Elephants are no picnic either."
Kern squawked! "Elephants!"
WhyteShadow wants to ride the Tesla-o-Whirl! Toledo says, "No one can resist that ride!"
Argon said, "It's shocking.
Kern agitatedly flapped its wings and then grabbed Natasha's tail and points it around, "Don't be afraid, we have it in wing! It's for the good of the city!"
WhyteShadow said, "Or the Faraday Wheel! ...only problem is, nothing can get in or out of that one."
Pathfinder laughed "Tesla-o-whirl, it just plane SHOCKING.
Kern turned around and pointed Natasha's tail this way and that, "Better believe it! Or else!"
Argon still likes the recursive teacups.
Kern said, "It's a special feature of the circuits!"
Guest2 said, "The merry ground is more my speed."
Toledo said, "Ooh, that's a good one!"
Kern said, "Oh no not nearly yet brushytail, the circuits isn't close to *this* city yet but don't worry we're gonna get news as it gets closer and closer!"
Kern said, "It's not gonna take *us* by surprise *this* time!"
Kern said, "Well you just believe me then ringlytail there's no way the circuits is getting in before everybody who should know does know what they heard about it being here!"
@Action News will provide further information as Kern provides it,