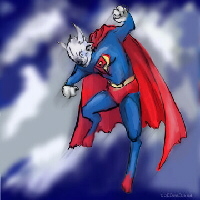 Order up! It's another heaping helping of Four-Kolor Kitty! This week will be looking places one can stop by the fill up the tummy and wet one's whistle. After all, you can't save the universe on an empty stomach.
There seems to be a mighty big difference between DC comics and Marvel when it comes to brand-name food, drinks, and even restaurants. DC comics have several established brands, where Marvel appears not to have much. Therefore, we will go with the feast before the famine, and stick with some places to go when you are visiting Metropolis or Gotham City.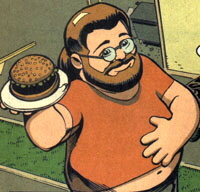 First, when one wants to grab a bite quickly when fighting to forces of evil, one just need to locate a local Big Belly Burger restaurant. Your basic hamburger franchise, it originally was found in the Superman comics, but has since grown out to be found nearly everywhere. Burger, fries, and shakes, all can be found here! Its slogan is "It's Belly Belly Good!" and features a mascot that is based on Bob's Big Boy. However, this one appears to resemble a member of the DC Comic's staff, though there is some disagreement as to whom. A few feature characters, such as Skyrocket of the Power Company, have worked there. Jimmy Olsen was featured in an ad for the restaurant, as well as figures in his various forms (such a Turtle Boy Jimmy) were toys in their children's meals.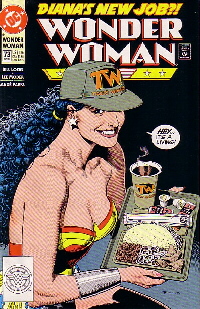 If you are in the mood, however, for something a little south-of-the-boarder, try Taco Whiz! Tacos, nachos, burritos, and enchiladas are served up here; the DC Universe's version of Taco Bell stands ready to serve up spicy goodness! This particular fast-service restaurant became famous when Wonder Woman herself worked as an employee! The manager was very understanding when it came to giving her time off to save the day, but Diana herself insisted she be allowed to make up the time she missed with no extra pay given. Talk about your team player!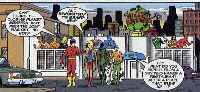 Want a nice, sit-down meal? For super-hero ambiance, you can't beat Planet Krypton! Bankrolled by super-hero Booster Gold, this restaurant based on the real chain Planet Hollywood, features not only memorabilia form your favorite caped crime fighters, but the wait staff dresses up as the heroes as well. The menu items also are themed to the spandex wearing set, with such items as "Wonder-Pancakes" and "Burger of Steel".
Just want a drink? Then head on over to Warriors, a bar opened by Guy Garner, originally a back-up Green Lantern for Hal Jordan, now a GL in his own right.

He founded this watering hole during a time when he was not wielding a power-ring and instead had been endowed with the power to adapt his body into a living arsenal. He serves all manners of alcoholic beverages, from beers to cocktails, as well as typical "pub" fare. Superman has been known to visit, insisting on being served milk (which Guy Garner finds amusing to no end, believing Superman can't hold his liquor.), and Braniac-5 once appeared in the middle of a celebration held there, was handed a mug of beer, then promptly vanished back to the 31st century, were he sampled and quickly spit out the drink. Apparently, Coluians never acquired a taste for the stuff.
And that's last order for this week's Four-Kolor Kitty. Remember, folks, we want to use your ideas and questions for our column, but that hasn't been happening lately. Please, page #mail PatchO'Black with future column ideas. Until then, see you in the funny pages!