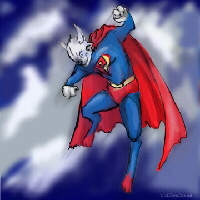 Hello, and welcome to another installment of the little slice of Valhalla we call Four-Kolor Kitty. As summer is upon us, and people are traveling all over on vacation, I thought this would be a good time to look at modes of transportation for the super-powered set.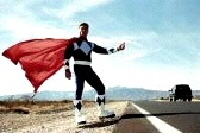 Several of the capes and mask crowd are lucky enough to have built-in way for getting from here to there. Some can simply slip off the bonds of gravity and soar about under their own power. Others have the gift of super-speed, allowing them to run anywhere they need to be in a hurry. However, for those with less travel - oriented powers, they often will turn to vehicles of all sorts.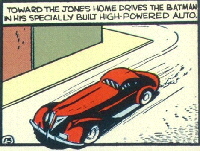 The most famous super-hero vehicle is most likely the Batmobile. A sleek black automobile, when the Caped Crusader needs to travel the streets and highways of Gotham City, he does so in high style. Originally, back in the early days of the Batman, it was simply a fairly ordinary looking "high-powered auto"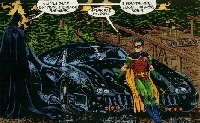 However over the years, it gained more "personality", with the addition of body work giving it more of a "bat" look. Over the years, various incarnations of the Batmobile came about, from a sedan to something resembling a huge tank. However, it typically resembles a black or very dark blue sports car, and it is crammed various optional extras, such as an on-board crime lab, various weapons, grappling lines, communication devices, as well as being armored to withstand a great deal of punishment.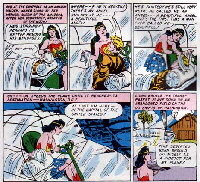 Wonder Woman herself has a very memorable vehicle, the Invisible Jet. Actually, at first, Wonder Woman's plane wasn't a jet, but had a propeller, as seen here in an early comic. After all, she first showed up during World War II, and jets didn't come into common usage until after the war.
Later on, it gained jet engines. Still much later, Post-Crisis on Infinite Earths, Wonder Woman gained the power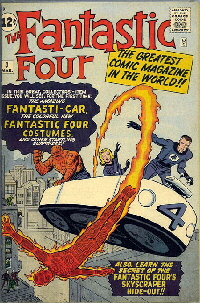 to fly under her own power. However, readers were nostalgic for the Invisible Jet, so the Amazon Princess received a special gift from some grateful aliens: A transparent disk that could change into the form of whatever the user thinks of. Once again, Wonder Woman had her own set of wings.
Of course, DC Comic's character don't have a lock on neat ways to get around. The Fantastic Four, when they need to get around New York, use their flying vehicle call the "Fantasti-Car" by Reed "Mr. Fantastic" Richards. It was originally called "the flying bathtub" by The Thing. It did resemble such in its first form.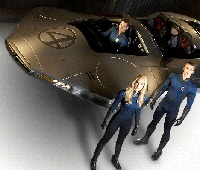 Fortunately, later revisions gave the Fantasi-car a much more stylish look, if not a more original name. The latest version appears in the new Fantastic Four movie, Rise of the Silver Surfer. In the comic book, the appearance of the Fantasti-car seems to change without notice, no doubt due to Dr. Richards' constant tinkering.
Another major Marvel super team, the Avengers, have their own way to go globe-hopping. A unique aircraft known as a Quinjet. Designed by Iron Man's alter-ego, Tony Stark,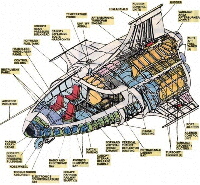 it can carry a group of super-heroes where they need to be in a hurry, and can also be equipped with specialized cargo for specific missions. It has also had one of the most constant looks in super-hero vehicles, it appears to be a short, almost stubby aircraft with comparatively small wings.With vertical landing and liftoff capabilities and a small footprint, the Quinjets allow the Avengers to land even on city streets. In fact, Captain America himself once got a ticket for illegally parking a Quinjet. Of course, the charges were later dropped, though Captain America commended the officer for not simply ignoring his duty.
So, there you have a quick look at super-vehicles. Proof you don't need to fly to get where you need to go when you are a super-hero. Be sure to join us again for more comic book knowledge here at Four-Kolor Kitty. Remember to send in your questions and suggestions! Until then, see you in the funny pages!