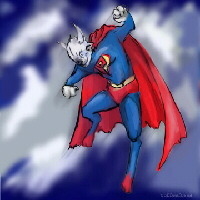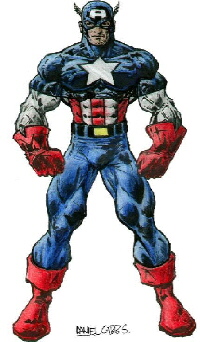 Ten-hut, readers, and welcome to a special Four-Kolor Kitty! As the 4th of July coming up (that's Independence Day in the U.S.A. for our international readers), I thought I would take a look at THE all-american hero. That's right, Captain America himself! I have to warn you, though, this week's column is going to be a little light on the cute quips. You see, I want to give the good Captain special respect in light of current events. Don't worry, we can come back another time and give a chuckle at some to "Winghead"'s (as his friends would call him) lighter moments another time.
In the real world, Captain America was created even before Marvel Comics was known as Marvel Comics. Heck, it was even before Pearl Harbor that a comic book cover showed a red, white, and blue clad figure giving a punch in the jaw.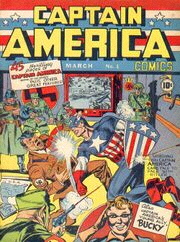 There was no mistaking this fellow's intentions, he was ready to fight the good fight for the U.S. of A!
In the comics, Steve Rogers (The captain-to-be) was born to irish immigrants. Tall and scrawny, this Fine Arts student with a aptitude for illustrations, when America called for men to join the Armed Forces, he answered the call. Unfortunately, he was classified 4-F, unfit for duty. Fate leant a hand, though. He then chose to take part in a top secret project called Operation Re-Birth! Now, most people think that all that was done is some super-science, but in more recent tellings of the story, Steve Rogers trained for months beforehand, both physically and mentally.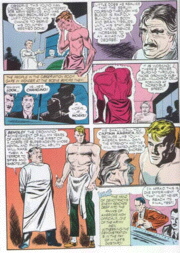 He was taught battle-tactics, and as a result, became a great strategist. Then, as the final step, he was given the secret Super Soldier Serum, in tandem with special "Vita-Rays", was given what was called the "perfect human form", though he is actually able to do things even the best trained athlete couldn't do. He was then give his uniform, in the colors of the U.S. flag, and a shield...but not THE shield.

Most people know about Captain America's shield. However, he didn't get the shield he is most famous for carrying until later. The first shield he had was more triangular, and made from steel. As nice as it was, it was replaced by an even better one. The famous "discus" shield, made of a one-of-a-kind alloy. Not only is the shield nearly-indestructible, is is perfectly balanced and, in tandem with Cap's own incredible skills, can be thrown as a weapon, bouncing and rebounding off of things to hit any target he chooses. Top that off with the fact that it absorbs kinetic forces, he can take a punch from the Hulk and not be sent flying. Also, he can step out of an airplane and, by standing on top of it, land with no more force than stepping off a curb.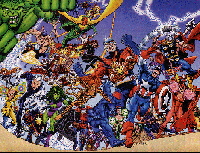 He fought the Nazis and the rest of the Axis, including his arch-enemy The Red Skull, all through World War II. Then, in the closing days, while stopping a missile that had been launched at Washington D.C., Captain America fell into the freezing waters of the Arctic. There, he went into suspended animation, thanks to the Super-Soldier Serum, to be thawed out in modern times by the Avengers. Captain America no longer was fighting a war, but he kept battling to keep the United States safe. Fighting against the terrorist groups, super-villains, and the odd alien invasion, when the world needed a true hero, they could count on Captain America. Until recently.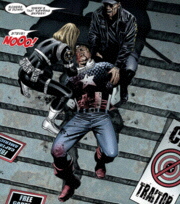 As you may have heard, Captain America recently died. He has, actually, been counted as dead before. However, this time is markedly different. You see, this came in the wake of a super-hero "Civil War", where one side was fighting to uphold a new law requiring all "costumed combatants" to register with the government. The other side fought to maintain their secret identities, as they didn't believe the government had the right to ask about their private lives and wouldn't be able to keep such information out of the hands of those who would use it against the heros. While one might have thought the America's super-soldier would follow the orders given, he instead sided against the registration act, as he felt it went against the ideals of the U.S. and violated the civil rights of those who where doing no more than their duty.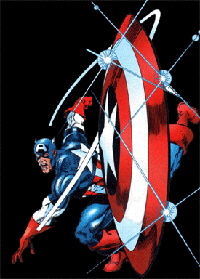 After several battles, and in the heat of the final conflict, Captain America looked around, and saw innocent lives being hurt by the fighting. He could not let it continue. He took of his mask, and as private citizen Steve Rogers, he surrendered. Then, on his way up the court house steps to his trial, he was shot in cold blood, the first shooter taking advantage of the Captain's nobility by making it appear that he was about to shoot one of the guards escorting him. They knew he would sacrifice himself to save another person.
Will Captain America return? I think it is safe to say he will be back. However, it is interesting to note that the reason Marvel decided this course of action is because they were getting conflicting requests from the readers. Some wanted him to speak out against the actions of the current administration, while others want to see him travel into the middle-east, and be seen aiding in the conflicts there. It could be said what really killed the super-soldier was an nation divided. Perhaps, when once again, America speaks with one voice, or at least acknowledges that an opposing view-point does not make one an enemy, Steve Rogers will appear, and Captain America will once again throw his mighty shield!
That's it for this week's Four-Kolor Kitty. Remember to keep sending in questions and suggestions for future columns, as the mail bag has been a tad empty lately! Until then, see you in the funny pages!