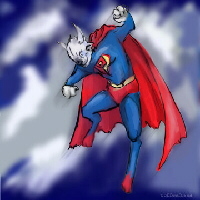 Welcome, folks, to another edition of comic book fun! This week, we will be looking at super-hero communication methods. From calling in the guys in capes to coordinating an attack on the arch-villain's lair, a good line of communication is important to the union-suit-wearing set.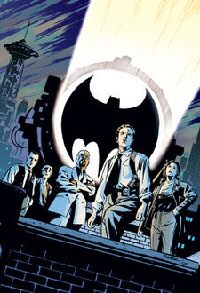 Let's start with the most well-known way to call in a hero, in particular the Dark Knight, Batman. When Commissioner Gordon wants to chat with Batman, he activates a simple yet effective, if dramatic, way to reach the Caped Crusader: The Bat-Signal!
Simply a spotlight with a bat-shaped piece in front of the light, when that is shined on the clouds around Gotham City, it means two things. One, a major criminal is giving the police trouble. Two, that major criminal should head for the hills, because Batman is being sent into the game. Heck, I'm sure the police occasional flash the signal simply as a crime deterrent. I can see criminals going "Oh, man! The bat-signal! Batman is going be on the case, and I don't want to cross his path!"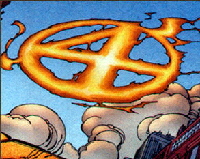 A similar method for summoning heroes comes from the Fantastic Four. Now, in this day and age, Reed Richards, the ever-brainy Mr. Fantastic, has integrated a communicator into the "4" symbol on their uniforms. However, before that, when he (or the mayor of New York, where they live) wanted to get the gang together in case, say, Galactus stopped by for a bite to eat, he would use...the Fantasti-Flare!
A specially modified flare gun, a nice big fiery version of the famous logo appears in the sky. I have to admit, I think that may be more impressive than the Bat-Signal, as not only does it take skill to make something that will explode and burn in that precise shape, but it doesn't need to be night or have clouds to be used.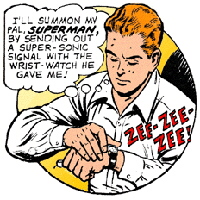 Of course, if you get to be called Superman's Pal, you get your own nifty way of getting the Man of Steel's attention: Jimmy Olsen wears the one and only ultrasonic signal watch! Giving off a distinctive "zee-zee-zee-zee" that only Kryptonian ears can hear, when "Mr. Action" gets into trouble (and you know he will, it's in his contract!), a quick click and help is on the way!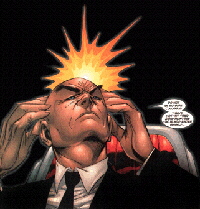 For more sophisticated communication, you can't beat being able to send one's thoughts to your teammates. The X-Men have been doing that for years, thanks to good ol' Professor X or Jean Gray (A.K.A. Marvel Girl, later known as Phoenix).
Of course, the X-Men don't have a lock on mental communication. The Justice League of America's Martian Manhunter lends a lobe and lets his teammates pick each other's brains. Hmm...maybe telepathy causes baldness in males....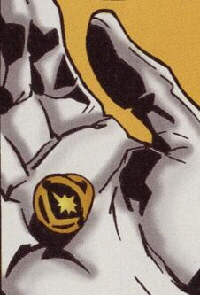 If you don't have a master of the mental arts handy, you are going to have to rely on technology. The Avengers, for example, incorporate their communicators right into the identification cards.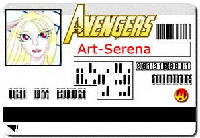 That way, as long as you got your I.D., you can make a call and get, say, Thor to give you a lift to work.
In the 31th Century of the DC universe, the Legion of Super-Hero's use a couple of devices to keep in touch. First, every Legion member's flight ring includes a communicator.
However, since sound doesn't travel in space, they needed something else. Thus, for when they travel through a vacuum, they use...telepathic earplugs! Yet another great invention from the folks that brought you the medallion-making machine and the planetary mission choosing device (you remember that, were it would randomly chuck little model planets at the heads of the seated Legion members so they knew who went on which mission...)
That will do it for this week, friends and neighbors! Remember, we here (and by we, I mean me) at Four-Kolor Kitty rely, more or less, on your suggestions and questions for topics of future columns. Just page #mail PatchO'Black with those ideas and queries! Until next week, see you in the funny pages!