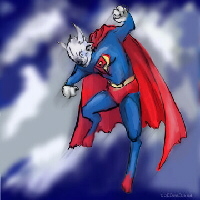 Hi-diddly-ho, folks! This week, we are going to be looking at one of the most well-known sidekicks in super hero history: Robin, the boy wonder! The junior member of the Dynamic Duo, you just can't say "Batman" without at least thinking of Robin.
Robin actually got his name, along with his somewhat medieval costume design, from the Errol Flynn movie, The Adventures of Robin Hood, one of my favorite films, by the way. It was only in later retellings that the bird known as a robin would be associated with the young crime-fighter. The idea behind giving Batman a sidekick was partially to appeal to younger readers who would love the share in the Dark Knight's adventures, and also as a way to make Batman less a dark, brooding figure of the night. Over the years, there have been four official characters to be called Robin.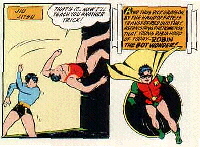 The original, Richard John "Dick" Grayson, is the best known one, if only for the 1960's spoof of the character in the Batman television series. In any case, his story is told time and time again. The young son of circus acrobat parents, a gangster tried to extort money from the circus owner. When he was not paid, his henchmen sabotaged the trapeze equipment, sending Dick's parents falling to their doom. As fate would have it, Batman was investigating this gangster, and seeing the anguish in the young boy matching his own when he lost his own parents, he took Dick Grayson in as Bruce Wayne's ward, later adopting him as his son. Bruce then trained him in all the skills he would need to help him fight crime. Thus started one of the greatest partnerships in super-heros.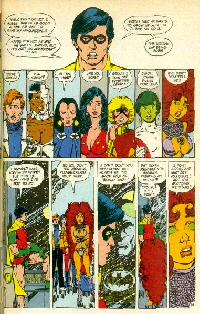 For many years, Batman and Robin fought crime together. Eventually, Robin banded together with other young sidekicks to form the Teen Titans. However, Dick Grayson did not stay a boy. Soon, he was being known as "The Teen Wonder" Eventually, he decided it was time to retire from the role and being just known as "Batman's kid partner" In a dramatic announcement to his fellow Titans, he retired from being Robin. However, as you can see, that didn't mean he was giving up being a super-hero, just that he was changing his identity.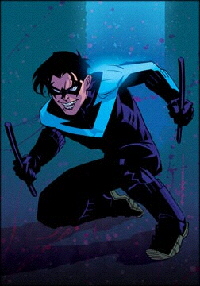 After some thought, he chose to honor his mentor as well as become his own man as he became "Nightwing". This name, actually, was used during a series of Golden Age Superman stories, and was the Kryptonian version of Batman. In recent times, it has been suggested that Superman had told Robin stories of the Kryptionian Nightwing, and that is how the new Nightwing got his name. In any case, Nightwing carries on fighting crime to this day. He does not, however, keep going "Holy *insert noun here*"
When Dick left, Batman went back to crime fighting alone until he met one Jason Todd. Jason Todd left an impression on the Batman by doing one thing most young criminals would know better not to do: Steal the tires off the Batmobile. Of course, one would think that the Batmobile would have some sort of security to stop such a thing, otherwise The Joker would regularly be leaving it up on some blocks.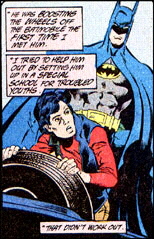 Jason Todd, like Grayson before him, was trained up. However, this Robin was more brash, and rubbed a lot of readers the wrong way. Eventually, as part of a publicity stunt by DC Comics, he was captured by the Joker and readers would call in to see if Jason lived or died. Whether folks really didn't like him or they just wanted to see if DC would actually kill Robin, the Joker took Robin II's life.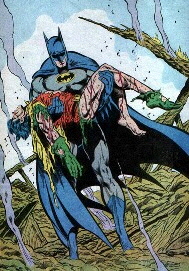 Of course, death isn't quite as permanent in comics. Soon after a recent mini-series, called Infinite Crisis, Jason Todd reappeared, slipping out Death's doorway (showing his hand stamp, I guess) and returned to the land of the living. However, being Jason Todd, he was bitter as he had been replaced as Robin by then, upset that Batman didn't save him, and generally being a jerk. However, he decided to continue crime fighting, mostly under the name "The Red Hood", but willing to use lethal force. The Red Hood, by the way, is generally accepted to be the name that was used by the man who would become The Joker. Ironic, right? Right?....I didn't think so, ether....
After Jason's death, Batman didn't want another partner. You couldn't fault him on that. With Jason's costume hanging in a clear tube on display in the Batcave reminding him of his failure, the Caped Crusader threw himself into his work. Unfortunately, this had the side-effect that he would put himself in extreme danger when before he would have been more cautious.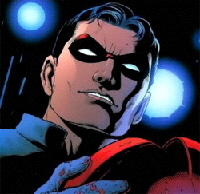 One young man noticed this change. His name would turn out to be Timothy Drake, and he would have an unusual connection to the original Robin. You see, his parents had taken him to see the circus that the Grayson family performed that fateful night. He had not forgotten Dick Grayson's signature trick, and later, when he saw Robin perform that same trick, he was able to put two and two together. He began training himself so that, should he get the chance, he could fill in for Robin. He also amassed evidence in secret of Batman and Robin's true identities. When he discovered Jason was dead, and saw the affect it had on Batman, he went to Wayne manor and confronted Bruce with his the fact that he had uncovered his secret on his own. At first, Batman refused to take him on as the next Boy Wonder, but after impressing him both with his detective skills and his restraint in dangerous situations, he agreed. Batman also redesigned the original Robin outfit of "short pants and pixie shoes" into something more dignified and practical.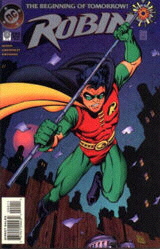 Tim Drake remains the current Robin. He became a founding member of a team called "Young Justice", which later was revamped into the current Teen Titans. However, the fact that, unlike the previous Robins, he had a father still alive, caused an interesting twist to happen. When his father found out that his son was Robin, he asked his son to give up crime fighting, at least for now. Tim complied, and handed back the red and green costume. However, Batman would not be Robin-less for long.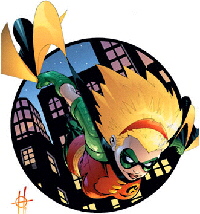 In came Stephanie Brown! A young super-heroine who called herself the Spoiler, she had been Robin's girlfriend for a time. When Tim took his leave of absence, she broke into the Batcave wearing her own version of the Robin uniform. After, again, being trained up by Batman, she became the first Girl Wonder.
However, her career was short lived. After disobeying Batman's orders to the letter, she was told to give up the Robin identity. However, she instead tried to prove herself by attempting to pull off a plan Batman had put together to try and eliminate the various gangs' power in Gothham City. Unfortunately, the plan had required the use of one of Batman's undercover alter-egos, "Matches" Malone. This caused the plan to dissolve into a massive gang war, in which the young female Robin was killed by the mob boss "Black Mask".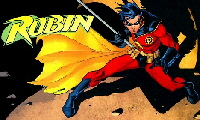 With her death, as well as the killing of Tim Drake's father by the supervillan Captain Boomerang (Tim's dad was able to fatally shoot the Outback outlaw before dying, however), Tim returned to Batman's side. He has redesigned the costume once again, removing all the green elements, sticking to red, black, and yellow, and giving the cape a more "birdlike" look. It appears that the design give a darker look to the Boy Wonder, but we will see if that lasts.
That's the story of Robin, Robin, Robin, and Robin! Join us again next week for another thrilling adventure...oh, who am I kidding, it will be more goofiness with the ol' Four-Kolor Kitty! Remember to send in suggestions and questions that you want to see covered! Until then, see you in the funny pages!