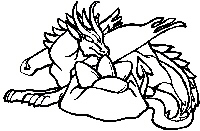 Saturday night was a solemn yet joyous occasion as those who knew and loved Aushae, gathered to share memories and stories.
Due to time constraints and other obligations, folks came and went through the evening, but generally there were close to thirty folks in Memorial Plaza (N1 W1) at any time. While some came to hear about someone who they may not have known but had had such a profound effect on SpinDizzy and its residents, others came to share their memories and rememberances of the dragoness.
Austin, Aushae's mate, acted as MC. Different folks told their stories and memories of the dragoness. Many had deep admiration for her, her love of her friends, her family, and her time on SpinDizzy. Although a slight technical glitch caused several folks to disconnect during the memorial, all in all things ran smoothly. It was a wonderful gathering of friends, family and memories of Aushae.
The event was closed by placing Aushae's memorial as part of Memorial Plaza. When looked at you see...
This marker stands three feet tall and is an elaborate cylinder of dark red granite which tapers some toward the top. On the front is a gold plaque with inlaid black letters:


In memory of Aushae
May 30, 2007.
Go you safe,
and be you safe,
and come home safe to us...
Perched on the top, cast in silver, is a figure of Aushae. The dragonness is settled back on her haunches, clawfeet planted on the rounded top, as though ready to LEAP up from it.
Aushae's muzzle slopes gently outwards from her forehead, ending in a graceful sweep of her nostrils. Draconic earfins fan back from Aushae's head. Her muzzle slopes gently outwards from her forehead, ending in a graceful sweep of her nostrils. A long, serpentine neck flows into her chest, and shoulders.
From there, two large dragonwings are folded against her back, with the wingtips extending past her haunches. Her thick forelimbs end in prehensile, three fingered clawhands. The whole of this silvery figure is detailed down to ribbons tied around her tail, giving an illusion of being covered in silvery, saucer-sized scales that break up the light into irridescent rainbows.
From below, bright blue light is cast to shine on the silvery figure in an erratic pattern, causing the figure's scales to shine and twinkle in what you might imagine to be bluefire magic, and what might be that.
Aushae's memorial is a wonderful and fitting memory of her.
A full log of the memorial is available.