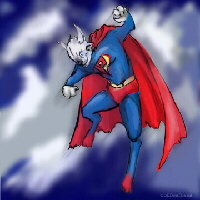 This week, having been given a nudge by the editor, Argon (Hi, boss!), we will be looking at some comic book dragons. In particualr, dragons in the Marvel Comics universe, as DC seems to be a little thin on dragons. Wonder what they have against them?
Actually, most of the "dragons" in the Marvel universe aren't dragons in the classic mythical sense. Take, for example, the Dragoness.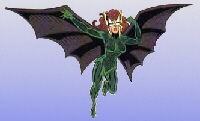 She was actually a mutant, a villianess. One time member of the Mutant Liberation Front, she had the ability to generate flares and pyrotechnics. In addition to her internal power, she used a jetpack and a pair of bionic wings to fly. She recently was discovered to be one of the lucky mutants who, in an event that caused about 90% of the mutant population to suddenly lose there mutant status, she retains her power.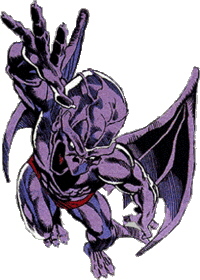 Next up is Dragon Man, who is really nether. He is an android, of the criminal varity, However, at least this fellow has a bit of magic to him, as the evil alchimist Diablo was involved in bring him to artifical life. He has the classic dragon powers of fire, flight, inhuman strength, and extreme durability, it is amusing that on his first outing, he was defeated by the youngest super-hero team, Power Pack. He later battled Iron Man, and has held his own when fighting Hercules and the Hulk. When last seen, he had been taken to Monster Island, where he can live among other creatures similar in form to him.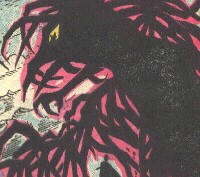 There is also the Dragon of the Moon, who is more a malevolent cosmic force than a physical being. Able to control cosmic and mystical powers, he claims to have killed the inhabitants of Titan, joined forces with Mordred against King Aurther, offered power to Thanos (who accepted), planted a corrupting seed of his being inside the spirit of the heroine Moondragon, and did battle with sorcerer supreme, Dr. Strange. In the end, he was drained of his power and then had his physical form distroyed, removing him from the mortal plane.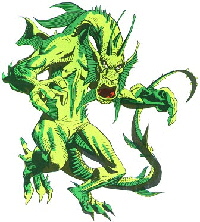 Last, but not least, is Fin Fang Foom. An alien in the form of a dragon, he is not a villian but he gets controled by those who use them for evil. This includes being lead through a village which he distroys, being possesed by demon, mind-controlled by mad scienist, and being manipulated by magic However, in the end, he reforms, becoming a Buddist (who would have thought of that? A dragon Buddist!) and even teams up with three other "monsters" to form a team dubbed...The Fin Fang Four! I guess that proves he is an alien, and one that lacks the ability to recognize a silly name.
So, there is a quick look at some Marvel-ous dragon characters. Personally, I think they are being under-used. If you have any thoughts on this, or any other comic book topics, let me know! Until next time, see you in the funny pages!