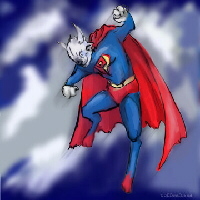 Greetings and welcome to another spleen-tingling installment of Four-Kolor Kitty. Following up on last week's look at Spider-Man, it was suggested by the bug bruin, Ba'ar, that we look at an alternate version of the web-slinger: One Peter Porker, the Amazing Spider-Ham! Yep, there is a sunny-animal version of the wall-crawler!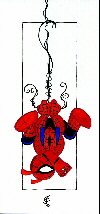 Now, while Spider-Ham seems to be a porcine copy of the original, his origin is a bit different. You see, Spider-Ham didn't start of as a pig. Nope, he was a spider simply named "Peter", residing in May Porker's basement. May, unlike her counterpart, was actually a scientist, and was working on an atomic-powered hairdryer. Yes, you heard me, atomic powered-hairdryer. Anyhow, as must happen in all good origin stories, something goes awry, and May become temporarily radioactive and...bites Peter! So, Peter gains the form of a pig, while retaining his spider abilities. Thus, he becomes more than ether part and is reborn as Spider-Ham! May, unfortunately, seems to lose her scientific knowledge and comes to believe herself the aunt of Peter, who takes on the family name and decides to help out the poor lady.
As is the case with these things, there are animal versions of just about everyone in Spider-Man's life. His girlfriend Mary-Jane Waterbuffalo and his boss, J. Jonah Jackal. In one of his earliest adventures, he teamed with Captain Americat (who's secret identity is Steve Mouser) and battled the Hulk-Bunny. Even had a Goose-Rider backup story.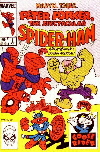 More recently, Marvel showed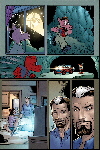 that in the possible timeline that Spider-Girl, the future daughter of Spider-Man, exist, Spider-Ham was a short-lived cartoon series. It was, in fact, created by one of Spider-Man's enemies to embarrass him and to lure him into a trap. It was used again to lure Spider-Girl into a similar trap. This version of Spider-Ham showed Peter Porker, not as a counterpart to Peter Parker, but as a millionaire similar to Bruce Banner, with a Spider-Cave and all that.
So, there you have it. Spider-Ham, the porcine web-slinger. You may now collapse in a fit of school-girl-like giggling. Who knows where this hero will show up next! I certainly don't, but join us next week for another Four-Kolor Kitty! And remember, keep sending those questions and suggestions for topics!