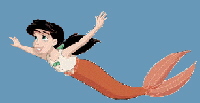 Visitors to the Rose Garden may have thought that something was fishy lately. Actually, it's only half-fishy. Nyni, former local unicorn (although her form has gone through a number of changes,) is now a young mermaid.
After talking to members of the local cetan "pod" and other water based folks, Nyni decided she wanted to give being a mermaid a try. Soon, she found herself with a magic swimsuit that would make her a mermaid when she wore it. Being an anthro unicorn, she slipped it on, but as seems to happen more often than not with magic on SpinDizzy, something went wrong. Once on, Nyni found the swimsuit had dissapeared and she had become an actual mermaid!
Although unicorns are magical creatures and Nyni could probably change back if she wanted to, she seems to really enjoy being a mermaid. It hasn't been determined how much of her unicorn magic remains, or if it's been effected at all. She's gotten new clothing for her new form and has even found that she is a "salt water" mermaid and not a fresh water one. She has found that breathing underwater is easy but she doesn't do it so well in fresh water.
Nyni has said that she likes being a mermaid a lot and is learning to maneuver her new form underwater. As often as she has changed her form it is hard to tell how long she will remain one, but as of this writing she is enjoying her water based embodiment very much.
Note that the image above is not that of Nyni but of the character Melody from The Little Mermaid II: Return to the Sea, © Walt Disney Pictures.