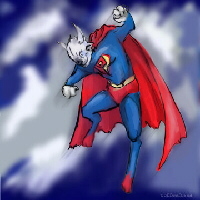 Greeting folks! This week, we will be looking at one James Bartholomew Olsen, better known as Jimmy Olsen, photographer, later reporter, and best known as "Superman's Pal!"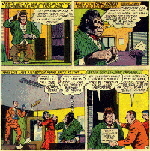 Now, one would think having the Man of Steel as a buddy would be all songs and roses, but there are some downsides. Of course, the most obvious is that, since ol' Kal-El is darn difficult to hurt, let alone kill, occasionally some genius criminal decides to do the old "get revenge by hurting those he cares about" schtick. However, I won't be looking at that danger. I'm taking about how one become a magnet for weirdness.
You see, ever since Big Blue came into young Jimmy's life, he has had to put up with one bizarre change after another. Let's start with a classic: The old "mind-swap", in this case with a gorilla! Of course, what would any of us do if we switched minds with an ape? Why, we would buy large sized versions of our favorite outfit and go back to work! Never mind, you know, checking into a hospital and getting the scientist who invented the mind-swap ray to undo the damage.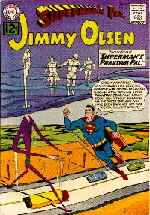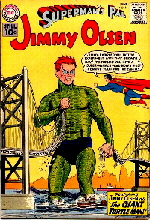 Another notable change was when the redheaded scamp drank a special serum and gain the ability to stretch his body to fantastic length. Thus began the on-again, off-again super-hero career of...Elastic-Lad! In his time as a second-rate Plastic Man, he did his best but...well, let's face it, if you are going to be seen next to Superman, you better be darn good at the rubber-band thing. He did, however, manage to become a reserve member of the Legion of Super-Heroes, which is pretty darn good.
There were a series of monstrous changes for Jimmy as well. A wolf-man, an alien, a radioactive man, even a human porcupine. But the most famous of all of these was...."Giant Turtle Boy Jimmy Olsen"! Oh, how this one has continued to haunt the character, much to the amusement of longtime followers of his misadventure...
I mean, can you just see the meeting were they came up with this one. The DC bullpen, sitting around, thinking about what the next story for Jimmy Olsen could be. Aiding Superman by following up on a lead he can't? Perhaps he takes some pictures that contains an important clue to solving a crime he didn't realize he had captured? No! What we need is....A GIANT TURTLE MAN! And they got paid for this kind of thinking, folks....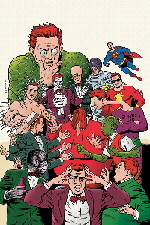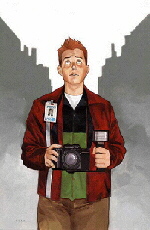 Jimmy Olsen has gone on to several more changes over the years. So many, in fact, that they actually released a collection of said comics, The Amazing Transformations of Jimmy Olsen. The cover art shows a good assortment of Jimmy's various changes.
Of course, Jimmy's greatest transformation occurred, not because of weird science or magic totem, but at the hands of modern writers. He has gone from that background comic relief to a well-rounded, helpful, and pretty darn competent member of the Daily Planet staff. Sure, occasionally he still finds himself sprouting a tail or something, but hey, that's the price you pay, when you are Superman's Pal!
Well, that wraps up another column. Remember, send in your suggestions and questions for future stories! Until then, see you in the funny papers!