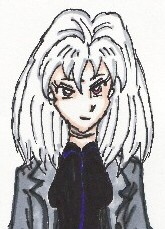 A recent increase in the number of employees at the newly built Kunoichi Corportation campus on SpinDizzy has led to many rumors and debate.
SpinDizzians have seen and met many of the employees of Kunoichi Corp. in the Rose Garden and elsewhere. Most if not all of them are either Japansese or "oriental" humans including it's CEO, Kunoichi.
When asked for a statement for @Action News, Haruka, Press Agent for the Kunoichi Corporation said, "Kunoichi Corporation is working on a rather important project for a confidential client and we cannot disclose any information at this time. All we can say is that this new project will benefit the entire community of SpinDizzy and that more employees from our Yokohama office will be arriving to help get everything ready. One of these specialized employees, Chiharu, has already arrived and all we can say right now is that her talents are integral to the project."
A somewhat secrative organization, its employees have little if anything to say about the corporation's activies and purpose. In fact, one of the most silent members of the corporation is Chiharu, local human, who, already drawing attention to herself as an albino and seems to have telekinetic / telepathic but is mute. Interestingly, she does communicate in a sense as her communication seems to reveal itself as a voice in your head (or another one of many voices in the heads of those that already hear them). Although she uses both abilities sparingly, her addition to the Kunoichi Corporation's staff, and her mental abilities have led some to wonder why so many humans with skills most humans do not possess, have suddenly arrived here. Although telepathic and telekinetic abilities are not all that unusal here, most humans do not have them. It is unknown if other members of the Kunoichi Corporation share these abilities or have others even more powerful.
Why the Kunoichi Corp would need someone with such talents and what sort of project would require them has been the subject of some discussion. Anything from a new mentally powered transport system (just think it and you're there,) to adjusting the course of SpinDizzy itself have been offered as ideas for their project.
Whatever the project is, sources who have asked to remain anonymous due to the sensitivity of their work with the Kunoichi Corp's and its rumored methods of dealing with those not adhering to its strict rules, have suggested that it will be revealed within the next few weeks.