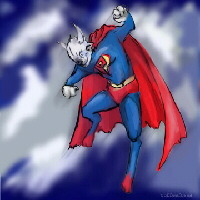 Greetings, everyone! For Easter, I am answering a questiion from Kunoichi, who would like to know what happened to "The White Rabbit", a character from Marvel Comics. Let's start from the begining, a very good place to start...
The White Rabbit is...well, to be honest, she is a C-list super-villian. Mind you, on the surface, she has the makings of a really unique lawbreaker. Her theme is, of course, the Alice in Wonderland stories. She also is drop-dead gorgous, which is a plus for any female costumed criminal.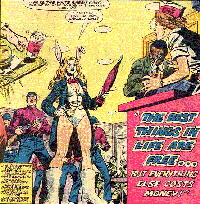 Using various Wonderland-styled gadgets, she could have been a contender. She is actually a wealthy young lady, but she becamed bored, and turned to crime for excitement. Some would call her excentric. Most would call her off her nut.
Unfortunately, she isn't exactly a criminal genius. Her first criminal endevor? Rob a fast food place! Okay, maybe she was working her way up, but seriously, a burger joint? Look for yourself:
Oh, it gets even better. What super-hero hops in to stop this threat? Captain America? Iron Man? No...it's Frog Man! If White Rabbit is a C-list villian, Frog-Man is a D-list hero. He uses a mechanical frog suit (Stop that giggling, or I'm turning this column around and heading home!) to fight crime. Well, more like tries to. He doesn't have the hang of it and ends up more like an out-of-control pinball during an earthquake. Anyway, White Rabbit takes off , leaving her henchmen to deal with Froggy, who manages to take himself out of the picture. Spider-man shows up, helps our poor dweeb of a crime-fighter, but the White Rabbit disappears for a while.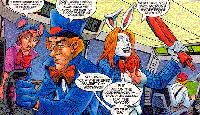 Her next outting is an attempt to get revenge on Frog-Man. Well, at least she picked an opponent she could handle. She gets fellow C-list villian, the Warus (another guy in a mechanical suit. Honestly, folks, pick an animal that actually has some sort of advantage in a fight!) So, they go out in front of...the same fast food place as before! They do attract Frog-Man, but they also attract his father, a small-time super-villian by the name of LeapFrog. He built the suit the Frog-Man uses, but for criminal purposes. LeapFrog, however, actually can work the thing and, with the help of Spider-man once more, wraps things up. The White Rabbit was caught when Frog-man clumsly landed on her, by accident.
You would think that would be enough for this buxom bunny, but nope! He next plan was originally to rob a bank (At last! She is learning!), but when she spotted Grizzly and his partner, Gibbon the monkey boy, who were part of a villain group nicknamed by Spider-Man as the "Legion of Losers", she changed her plans and...kidnapped them for ransom!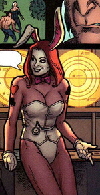 Not only did she try to get the city to pay for the return of a couple of super-villians, they were incompetent super-villians! She asked for a billion dollars. The mayor offered her $2.50. If that wasn't enough, she got captured by Spider-man again, but Spidey wasn't in his usual outfit. Nope, he didn't have his costume available, so he put one together from some sacks he found and captured her as...Bag-Man!
A glutton for punishment, her latest caper had her teaming up with a top-notch criminal this time, one by the name of Arcade! Now, this guy has tangled with some of the best and, while not won everytime, has held his own! See, he gets paid to kill folks, but he does it with style by kidnapping them, then having the victim try to stay alive in his killer theme park, Murder World. If they survive, he lets them go. Of course, not many survive. Anyway, these two teamed up against the Black Cat and Wolverine. The deadly duo did alright for themselves for a while, but Black Cat and Wolverine eventually turned the tables on the two. Arcade called the White Rabbit a dumb bunny as the two ended up on an island inhabited by a small tribe of primative people. Apparently, the warrior chief took a liking to the White Rabbit, as she was last seen sitting on a throne next to him, as Arcade was hung over a fire, apparently for his insult to the Whte Rabbit.
And, thus ends our tale of the White Rabbit! While not the greatest character to ever come from the house that Stan and Jack built, still an entertaining one! Until next week, see you in the funny pages!