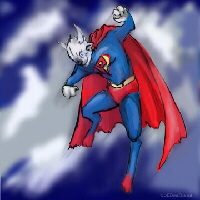 If you remember back to my second column, I said that Argon had asked a question I would get to in a later column. Well, Argon, this week we answer the question, "Who was the greatest centaur hero?" Actually, Argon, you actually know quite a bit about the comic book centaurs, as evidenced by your own centaur web-site. It allowed me to brush up on my own knowledge.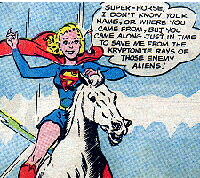 I will start with one that is somewhat well-known as a character, but not really as a centaur. I am talking about Comet, the Super-Horse. Comet, in his fictional history, was once a centaur who fell in love with a human woman. He had Circe, the well-known greek witch with a passion of changing men into animals, gave him a potion that was suppose to turn him fully into a human. Instead, it turned him into a horse. He also got the standard package of super powers (flight, invulnerability, super-strength, speed) as well as telepathy.
Also, due to a later magic spell, if a comet passed through the solar system, he would change into a human. As a member of the Legion of Super-Pets (along with Krypto, Streaky (the super-cat), and Beppo the Super-Monkey), he fought crime and, well, invokes a couple of chuckles from comic book fans. Not so much because of the character himself, more that DC seemed to want to have a super-version of everything. He recently was brought back into the modern comic age, with a similar back story, with a few modern twists, but really has never seen much in the way of popularity, I'm afraid.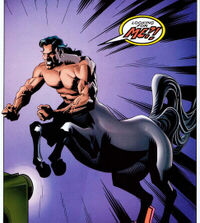 Speaking of super centaurs, Superman himself became a centaur in a story known as "Whom Gods Destroy", though this is what DC comics calls and "Elseworld" story that doesn't really take place in continuity of the "real" Superman comics. It takes place on a world ruled by the Nazis, added by a Greek god, Adonis. Apparently, Superman was changed into a centaur by the magic of Circe, of course. She just loves to work with centaurs, it seems.
However, my favorite comic centaur is...Horse-boy! I know, I know, centaurs aren't really horses, but that was what he was called! You see, this was back in the Golden Age of comics, and took place in a Wonder Girl story. Now, as opposed to the more recent Wonder Girl characters, this was actually Wonder Woman as a teenager. It seems that, it this particular story, Aphrodite has set the young amazon a challenge. She had to find a proper suitor (well, a boyfriend), which can be tricky on an island only inhabited by women. She first was courted by Mer-Boy (yep, fish tail and all) and BirdBoy (think male harpy), but suddenly, while the first two fought over the young Princess Diana, a handsome young centaur stud showed up. He swept Wonder Girl off her feet, and took her riding on his back. In the end, however, Wonder Girl rejected him, after he displayed a self-centered and egotistical personality. It turns out, however, that the centaur teen was actually just a creation of Aphrodite to see if Wonder Girl could see past his good looks and recognize the shallow person he was. Horse-boy was then returned to nothingness. At least, that's how I remember the story. It appears that tale has turned to nothingness as well, as I searched for evidence of the story so I could post a proper picture from it. I haven't found one bit of evidence of it. Still, I pick Horse-boy, who gave his very existence to serving the greater good!
That's it for this week! Remember to page #mail your suggestions of topics and comic book questions to me, and I'll use them in future columns. See you in the funny pages!