Hey, folks! In honor of St Patty's Day, this week's column will be about super-heroes from Ireland! Now, I know what some of you are thinking, "I thought all super-heroes were from the U.S.!" Well, actually, super-heroes come from all nations. Then they are shipped to the United States, some sort of trade agreement, I think....
The first time I became aware of a super-hero from the Emerald Isle was in Marvel Super Hero Contest of Champions. Basically, it was one of those big cross-over events that throws a bunch of characters together in order to have one big extravagansa.

One of the champions was a young lady who called herself Shamrock. A mutant, she had the ability to affect probability, thus giving herself an aura of good luck. She also had the ability to make a costume that, while appropreate, was a bit uninspiring:
However, over the years, her powers waned, and she eventually gave up the super-hero life to become one of the most sought-after hairsylists in Europe. Who says there is no life after wearing spandex?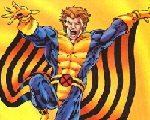 More well-known Irish mutant heros are the father and daughter pair known as Banshee and Siryn. Banshee, whose real name is Sean Cassidy, is a member of Marvel's well-known band of outcast heros, the X-Men. As his name suggests, his power is a sonic scream that, along with causing auditory distress and concussive force, can allow him to fly. How? I suppose it has to do with air-vibrations, because he doesn't use his scream for thrust.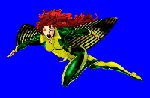 Siryn, who grew up never knowing who her father was, has all her father's powers, plus being able to detect and manipulate sound. When she recently was told her father had been killed, but no body found, she took the news with the same skepticism of a long-time comic book reader: she merely noted that super-heros have a habit of not staying dead. However, that is another column altogther.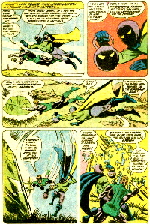 Lastly, we go from the Marvel comics to DC, where we have Jack O'Lantern. Danel Cormack was a poor farmer who was given a magic lantern by a local fae. Something of a back-up hero, he did help out big names such as the Green Lantern and Superman. Unfortunately, he fell from grace when he threw in with a villianess named Queen Bee. He was gravely injured in a fight with the Justice League, but was eventually found and help back to health by his girlfriend, another international super-hero called Owlwoman. He joined the world-spanning super-group, Global Guardians, returning to the side of good, and eventually died of natural causes. He was then impersonated by a henchman of the Queen Bee, who in turn was killed by Owlwoman when she discovered the ruse. The current Jack O'Lantern, Liam McHugh, is currently with a group known as the Ultramarine Corps, who have traveled to a "micro-universe" with a version of Earth where they do not even have the concept of a super-hero.
And that's it for this week's Four-Kolor Kitty! Remember, page #mail questions and suggestions for future columns! See you next week!