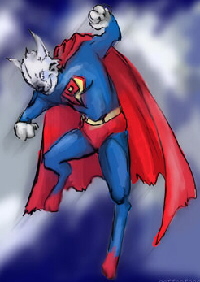 Okay, we're off to a slow start here at Four-Kolor Kitty. Since last week, we only got two questions in. The first was from Argon, and I'll be looking into it in a later column. However, this week's topic comes from a question asked by Austin: Why is the Legion of Super-Heroes using, well, this thing to choose a field team and its leader?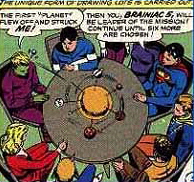 Well, first, let me explain who the heck this group is. The Legion of Super-Heroes are a group of super-powered teens, living and saving the galaxy about 1000 years after the days of Superman, Batman, and the Justice League. Now, if you are keen-eyed, you will be saying, "Say, isn't that Superman at the table with them?" Well, no, that is actually, Superboy, as in Superman when he was a teen. You see, the Legion of Super-Heroes first came about during what is known as the "Silver-Age" of comics. This was an era noted for it's grand adventures, introduction of the more familiar versions of various super-heroes, and, well, a certain lack of basic science knowledge. Some would say that were attempting to spin whimsical stories. I say that some of these folks were suffering from brain-fever-driven delusions. I mean, look at it! What person in their right mind would think that getting bonked in the head with a little model planet is a good way to pick who should go save the galaxy?
This wasn't the only bit of questionable technology the Legion used. They had something called an "ancestor-visualizer machine". Put it on, and you could see the faces of all your ancestors! Now, THERE is a handy gadget for fighting crime. I mean, sure, it's nice to know what your great-great-aunt Jeanie looked like, but....
Of course, security is important in one's headquarters, so the Legion had, among other items, the Ceiling Detection Device. No, it didn't detect ceilings, it was a ceiling that turned red when any intruder entered. Okay, I guess that is kind of useful, but I get this image of the ceiling turning red every time a visitor came in.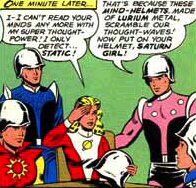 Now, there were a couple of bits of equipment that, while useful, would have the added effect of making any super-villian break out in laughter. First up, the Mind Helmets...
These stylish chapeau block any telepathic powers from effecting the wearer. Good for all those villains with mental domination powers. Also makes everyone look like they should be goose-stepping about. However, add the Hydrogen Filtering Diving Masks....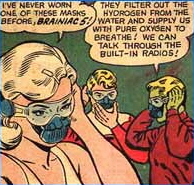 I think I need to point out that breathing pure oxygen is not really a good idea. But, setting that aside (the writers did, after all!), by wearing these with the Mind Helmets, you get the full "Darth Vader-wannabe" look. Need I even mention the Medallion Making Machine?
Now, I do have an idea why in the world this group of future adventurers would have all these useless gizmos. You see, a lot of their equipment was donated by the grateful planets they would protect. I am guessing a few of the planets were not quite as grateful as others. "Hmmm....say, you know that old thingamabob that turns blue when there is a rise in temperature? Let's send that to the Legion and tell them it is a great honor to have one!" I am sure lots of planets used the Legion as a dumping ground for high-tech junk that no-one else would take!
Well, that's it for this week! Remember, send in those questions or suggestions for topics! See you in a week!