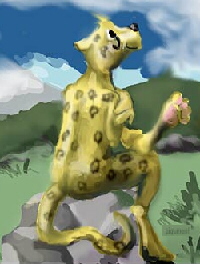 Heyyas!
Morticon's meeting this past Thursday night finally wrung out of me something I have been contemplating for a long time, now: A proposal for a long-term RP, The Voyages of the SS SD (working title until I come up with a better name for the ship).
I am by no means offering to run this RP; I simply haven't the time. What I will do is to create the environment, and, provide some basic plot ideas. It will be up to whoever decides to use what I offer to make the RP, itself, a reality.
The basic premise is this: A luxury ocean liner voyaging the seas of SD, with a different port of call (selected from those available) each week. Sub-plots, run independently, could take place aboard at all times, and interface with whatever port the ship was in. Larger plot elements could involve the ship, itself, or onshore scenarios.
Possible plot paths:
Initially, launch of the maiden voyage, and a grand party at sea. Some sort of mystery to be solved (murder, theft, whatever), or, even a scavenger hunt to encourage exploration of the ship. Subsequent events would take place aboard ship, with a stop at a port of call weekly or bi-weekly.
Suggested aboard ship activities and plot hooks:
Espionage
Diplomacy/Negotiations
Epidemic
Pirate attack
Mutiny
Hijacking (mebbe by somebody /besides/ the SED?)
Shipwreck or Storm at Sea (with castaways left ashore at some deserted island for a while)
Banquets and Balls
Sporting Tournaments (tennis, golf, skeet, swimming, shuffleboard, etc.)
Auctions (who knows where this could go?)
Art Shows (a creative outlet for those who like to create on a small scale)
Spa and Fitness Activities (if your character needs to get fit or to recuperate with some physical therapy)
Bars and Lounges
Festivals and Holidays (real or imagined)
Music Concerts
Port plots could involve just simple touristy activity, such as exploring a location, trading, espionage (also a shipboard fave), or more involved plots inland.
Ports of call:
Casino town (Monte Carlo/Riviera-esque location, to be established?)
A tropical Polynesian paradise (Ekena'Iulani Islands in the Mare Medius)
A mysterious, horror-shrouded island (Macumba Cay, Mare Medius)
A mystical spire rising out of the middle of the sea (Shore of Wonder, Mare Ultimus Hesperus)
A quaint, quasi-central-European seaside town (Viz Varos, off the Mare Ultimus Hesperus)
A safari in darkest Africa (Duma Mountain, and adjoining African areas)
A dusty old village on the fringe of an archeological dig (Ancient Lands)
And other destinations which might be uncovered as time goes on.
Others may depend on the landholders whose properties adjoin the Glimmersea and its extensions, and their interest in being visited. Might be time for some furs to dust off their old properties and drum up some visitors with some new polish!
I will create the ship, using Morticon's vehicle design system. I may 'drive' it, myself, to keep the ship on course and on schedule, or, I may allow somefur else to do so. I could see allowing furs to establish long-term residences aboard, especially if they wish to act as standing crew. As I said, however, this is intended as a vehicle (pun intended) for RP, as well as a means by which furs can also explore at least the maritime parts of SD which would otherwise go neglected.
This also brings up the point of character roles: Ship's crew, passengers, stowaways, and any other roles one might imagine. Consistent roles might be desirable, or not, depending on the nature and duration of a given plot. I have always favored episodic plots, with the same characters developing through prior plot events, though, of course, this needn't be the case, and could be curtailed by in-game fatalities.
It will take some time for me to build the ship; meanwhile, interested parties may wish to start planning their itineraries. I invite those with properties along the Glimmersea Main, as well as attached ocean areas, to offer suggestions and input for use of their locations. Watch this column for further information.
Bon Voyage!
-Ray =^[.]^=