Here are the results of the caption contest from last week!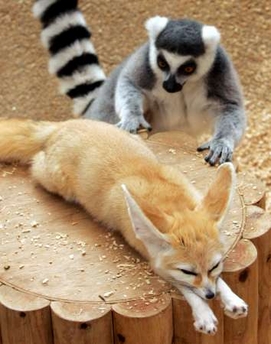 Aushae: Austin on Lemur- Day tries to cheer Vixie up, ''Leslie won this time, but you beat Felix. You might win the Cuteness Cup next year.''
Findra: Suri on Talk-Like-A-Chef day explains, 'First you have to 'marinade' your fennec with plenty of brandy, then ... BAM!'
Soul Fox: The unsuspecting fennec dozed on, tragically unaware of the approach of an ill-informed lemur, who was under the mistaken impression that the fennec's ears housed a radar set constructed primarily of fur-covered zinc. What followed wasn't pretty...
Angel Bear: 'Hold still. I just want those Hershey's Kisses you're lying on.'
Mavra: 'Dr. L. Murr, Psychiatrist'
DTF: "One way, or another, I'm gonna getcha-getcha-getcha-getcha...."
Lou: And the mask bandit struck again this time stealing the fennec's back legs.
Jiffy: Yep, I'm pregnant.
Roofus: Suri prepares to "recruit" Raeth for the Fennec Space Program.
Steve: 'Cato Lemur popularized his fledgling massage business by offering free antebrachial aromatherapy to the first one hundred customers.'
Shadowcatcher: "Oh, goody! Perfect opportunity to practice what I learned in Chiropractor's school!"
Westly: Perfect for the kit-napping!
Gilead: "Hmm, no rings but....ohhhhhyeahhhhh.... :-9~~~"
Suri: Skyler's nap was fated to meet a bizarre conclusion ...
---
And the results from the previous week's caption contest: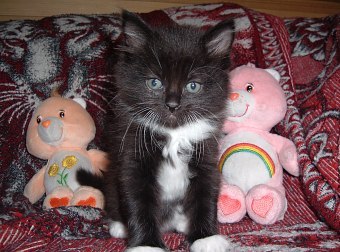 "One of these things is not like the others. Which one of these things just doesn't belong....." by both DTF and Argon
The newest Care Bear Cousin...just wasn't fitting in... by Gilead
From Leowulf - 'What are these 'things' doing in my SPOT!'