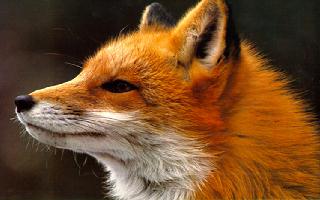 This week we have a chat with Eliahn, local fox.
Eliahn has arrived.
Ba'ar growls, "Hello Eliahn and thank you for helping me do the interview."
Eliahn yips, "Oh, my pleasure."
Ba'ar growls, "Okay let's start. Our readers know about you and some have even met you 'in the pelt' as it were. For one thing, how long have you been here in Spindizzy?"
Eliahn yips, "I'm honestly not quite sure. I've always thought that time is something that happens to other people. Several years, I think, since it's been a while."
Ba'ar nods, "How did you get to Spindizzy?"
Eliahn yips, "Oh, I was caught by the wonder of the place-literaly. It just pulled me in out of the aether and refracted me right into itself."
Ba'ar growls, "You don't remember where you came from?"
Eliahn yips, "Well, I remember lots of rushing through darkness, pure motion and contemplation, quite pleasant, really, if a bit chilly and boring to look at ."
Ba'ar nods, "So do you get flashbacks of your 'previous life' from time to time?"
Eliahn smiles, "Not really, just memories. It was qutie uniform, after all. move, reflect, refract, over and over."
Ba'ar nods, "So what's a typical day like for you - or is there one?"
Eliahn shrugs his shoulders, sitting down on the ground and folding his hands in his lap, "Oh, lots of thinking, try to confuse people-- you know it's ever so much fun picking on SED members when you run into them? Especially the machines, it's just no end of rewarding. For a while I was reimagining myself, but once you get stuck in a way of thinking it's hard to get out of it, so that's more a matter of playing a game. I keep thinking of things to try building, but once I figure out how I COULD build it, the actual business of making it exist seems boring by comparison."
Ba'ar smiles. "So is that one of your main hobbies? Confusing and confounding the SED?"
Eliahn yips, "Well, not confounding. And not as a group. I've just found that a lot of individual members can be ever so much fun to chat with. I keep trying to persuade them to go against the grain and rebel, but I haven't had any luck. I guess I shouldn't expect much in the way of initiative from machines. I don't actually know anything about the group as a whole."
Ba'ar nods, "If there was one thing you could change about Spindizzy, what would it be?"
Eliahn leans back, scratching his head with one hand, "I'm really quite happy with it as it is, honestly. I do keep trying to convince people to become the one, true hue, but, really, that's one of those things I'd be quite unhappy to get my way with."
Ba'ar growls, "'One True Hue'?"'
Eliahn folds his arms, smirking, "Come now, surely you can't guess what the king of all chroma is. Or, at least, which one I would name."
Ba'ar growls, "I don't understand, really."
Ba'ar growls, "Unless you've set yourself up as that 'One True Hue'"
Eliahn chuckles, "The colour azure, of course."
Ba'ar growls, "(Why do I feel like Alice gone down the rabbit hole to Wonderland? *chuckles*) What's so special about azure? I know you've got azure fur but what else?"
Eliahn smiles, "You may as well ask why moonlight shines and thunderstorm winds are sweet. it is the colour that lights the world and which all other colours merely exist to accent and contrast. It's just one of those universal mysteries."
Ba'ar growls, "So who do you admire the most?"
Eliahn scratches his head, "Here? Oh, I don't know. I like a lot of the people, but I don't think I have any heroes on Spindizzy."
Ba'ar nods, "So who do you admire the least?"
Eliahn looks down a bit and flicks his tail, "All the people I've never met and never heard of."
Ba'ar growls, "Do you have any plans for your future?"
Eliahn nods, "I do! I'm going to try to try to understand everything in the universe. I figure if I devote myself to an impossible task like that, I'll never run into the disappointment of actually finishing it."
Ba'ar growls, "Is there a secret fact or desire about you that would surprise our readers?"
Eliahn yips, "Probably, but if I told them it wouldn't be a secret. Though. . . . . well, I can tell you that I've always had the desire deep in my heart to be a wandering minstreal. Travel far and wide tagging along anyone who would have me by virtue of nothing but my song."
Ba'ar growls, "In closing, do you have any words of wisdom for our readers?"
Eliahn leans back, looking up at the ceiling, "You always have words of wisdom floating in the back of your head until someone asks you for them. All I can think of for the moment is, never forget to take time out to find something sparkly and brightly glowing and pretty to enjoy and play with."
Ba'ar nods, "With that in mind, that concludes our interview. Again Eliahn thanks."
Eliahn jumps up and bows, "Thank you, sir. It was my pleasure."