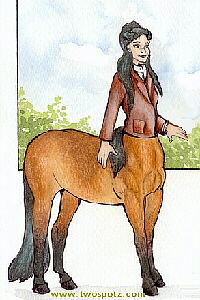 This week, we sit down to have a chat with Mavra, local centaur.
Mavra has arrived.
Ba'ar smiles "Welcome Mavra, and thanks for helping me out with the interview."
Mavra raises her eyebrows? "Bedroom?"
Ba'ar nods
Mavra smiles and tips her hat. "Hello, Ba'ar."
Ba'ar giggles "Nothing will be done here. I know you're already taken."
You growl, "Okay let's start. Our readers know about you and some have even met you 'in the pelt' as it were. For one thing, how long have you been here in Spindizzy?"
Mavra says, "I've been here on SD about as long as it's been in existence. I came along with Argon, my husband, when Toons, Fur & Fluff went down and SpinDizzy got started."
Ba'ar nods "So you came here from Toons, Fur and Fluff bit the dust? I see. How did you meet your handsome hubby Argon?"
Mavra says, "That was a bit longer ago, back in 1997 on a centaur-related bulletin board, now being moderated by a centaur by the name of Aatheus. Just around Argon's birthday, too."
You growl, "Did you know him before you transformed?"
Mavra says, "Oh no, I had no idea of his or anybody else's presence for years after I became a centaur."
Mavra says, "I've been one for over half my life now. :-)"
You growl, "I've heard it was a government funded military project that changed you and Argon into centaurs."
Mavra says, "In Argon's case, the evidence points very strongly in that direction. In mine, it's something quite different."
You growl, "What caused the transformation in your case, if I may ask?"
Mavra says, "A bit of an accident, actually, one that was intended to save my life. As a matter of fact, what is seen now is my second transformation."
You growl, "Second transformation? Please elaborate on that if you could."
Mavra says, "My first transformation was what would be considered 'the big one', that being a shift from human to centaur. That was more or less intended. It also had the benefit of regressing my age so that I was younger and give me 'extra life', I'm guessing, to make up for lost time. The second transformation simply aged me back to my 'apparent age' and altered my looks to what you see now."
Ba'ar smiles "Are you sure you've gone through the 'second transformation'? You look rather young to me."
Mavra smiles. "Thank you, and yes, I'm more of my 'proper age' now. Try being a kid again." ;-)
You growl, "This next one may be rather painful so you don't have to answer it if you don't want to. How has your family reacted to your centaur form?"
Mavra sighs. "Mixed to be honest. Most of them see it as 'one of those things', while there are others that have severed all communication with me."
Mavra says, "But those that have cut ties are very much in the minority."
Ba'ar nods "That's good. At least you have a good support network...Now then.."
You growl, "What are the advantages of being a centaur (other than the fact you have Argon as a wonderful hubby?)"
Mavra smiles greatly. "What, there's more?!"
Mavra says, "Gee, having Argon is a blessing in and of itself. Adding to that is just 'icing on the cake'."
Ba'ar giggles "Okay...so you're a lucky lady, I admit. Anything else other than Argon?"
Mavra says, "Ok, to be honest, to me, one of the number-one things that I enjoy best about being a centaur (Argon, as significant as he is aside, sorry Dear) is the size and strength. I know that in many cases and in many species, the female is either smaller and/or weaker. For myself, I can say 'NO!' and mean it, backing it up if I have to."
Ba'ar smiles "I wouldn't get BEHIND YOU to have you DEMONSTRATE this fact either. I'm not THAT stupid."
Mavra says, "That's another thing that is very often overlooked of centaurs."
You growl, "Power?"
Mavra raises a fist. "These things." :-)
Mavra says, "Dangerous at both ends if somebody decides to get nasty."
Ba'ar grins "You are woman.....see you punch and kick."
Mavra taps her head. "And this for thinking things out. We are *not* horses, much to Morti's dismay."
You growl, "Now then..What are the disadvantages of your centaur form?"
Mavra says, "Disadvantages? There are disadvantages?"
Mavra says, "Hehe, ok, seriously. It's simply having regions that are out of easy reach. Like scratching an itch and so forth. Nothing major, just a mild nuisance."
You growl, "I can imagine. I've often thought about the difficulties of you taking care of yourselves (but then again you have Argon to help you out)."
Mavra says, "True, but then I was rather self-sufficient for many years before I even met Argon."
Mavra says, "I've since learned numerous little 'tricks' for making do while other, more recent 'transformees' haven't."
You growl, "Would you change back if you were given the chance? "
Mavra says, "Right now? No, not on your life. I've been like this for more than half my life, why would I want to change it again? I've enough distractions as it is."
Ba'ar nods "Who do you admire the most?"
Mavra says, "My parents. They've been through a lot in their lives in their efforts to raise myself and my siblings, even more since I've changed. I admire their dedication."
Ba'ar nods "How noble. Now then, do you have any plans for the future?"
Mavra says, "Only the same as most individuals; good job/house/et cetera. My only added twist is to eventually move back down to Florida again and be with Argon once more."
You growl, "What secret fact or desire about you would surprise our readers?"
Mavra chuckles. "From Column A, Column B, Column C, Column D...? I've a lot of secrets and desires. Well, here's one, I don't know how many are sufficiently familiar with my education, but in two separate issues of 'Popular Science', I have my graduate student project being displayed there in various stages of development I was making. It's that NASA-sponsered 'CEV' as a replacement for the Space Shuttle."
Ba'ar grins "Brawn and brains. I'm impressed."
Mavra says, "Now if only I got *some credit* for it. Ah well. ;-)"
Mavra says, "Go China! ;-)"
You growl, "One more question Mavra. Do you have any words of wisdom for our readers?"
Mavra says, "Yes, I do, Ba'ar. Everybody should realize that there is *one thing* that is the most important thing in life. What that is exactly varies from individual to individual, it's up to you to figure out what it is and be true to it throughout your life."
Ba'ar smiles "That concludes our interview. Thanks alot Mavra."
Mavra tips her hat. "Thank you for having me over, Ba'ar."