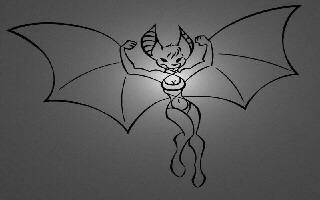 This week, we sit down to talk with Aleu, local vampire bat.
Aleu has arrived.
Ba'ar smiles "Hello and thanks for consenting to the interview."
Aleu mrrs, "No problem. Glad to do it actually. Getting to be too noisy in the garden."
Ba'ar grins "The garden is too noisy at times.. Now then."
Ba'ar growls, "Okay let's start. Our readers know about you and some have even met you 'in the pelt' as it were. For one thing, how long have you been here in Spindizzy?"
Aleu mrrs, "Hmm... well, let me think for a second... geez, it feels like forever! But I'd guess maybe 5 years?"
Ba'ar growls, "Did you come from Toons Fur and Fluff, as many SDers did?"
Aleu headshakes. "I started on RaccoonMUCK, then I came here when a friend dragged me here."
Ba'ar nods "So your friend was a SDer and wanted you to see what was up with this place?"
Aleu nods. "I wanted to stay at Raccoon, but I eventually told myself to get off my lazy rump and go check it out, and I loved it, so here I am.
Ba'ar growls, "What's your favorite place on Spindizzy and why? "
Aleu mrrs, "Well, can't say I've really been anywhere but the garden, but I guess the French Quarter. Very nice looking, and it's perfect for a party. I'm planning my birthday there."
Ba'ar smiles "When is your birthday?"
Aleu mrrs, "August 31st! Right around the corner."
Ba'ar smiles "Happy birthday..(and of course being a gentleman, I will NOT ask your age.)"
Aleu giggles. "I don't mind to tell. I'll be 24."
Ba'ar smiles "Now then...This next question's may be very sensitive, and you don't have to answer it if you don't want to."
Ba'ar growls, "I understand you're a vampire bat. How do you get your nourishment without affecting the citizens of Spindizzy?"
Aleu grins. "I'm always asked this. Due to a previous 'almost-incarceration', I can't just up and bite people anymore. I was reduced to asking for it. Well, turns out some of my very close friends didn't mind, so I just 'hunt' my friends now."
Aleu meeps. "I hope no one takes that the wrong way.
Ba'ar nods "Are you able to survive on other food besides blood?"
Aleu mrrs, "Nope. I get very little nutrition from anything except blood, and my stomach really isn't made to handle anything but blood. I have been known to have a taste for marshmellows, though. (Sorry if I spelled it wrong, Patchy.)"
Ba'ar giggles and imagines you sinking your teeth into a marshmallow "I vant to chomp your inzidez."
Aleu mrrs, "Oh please, that's Gotham. She's the one with the transylvanian accent."
Aleu mrrs, "I did bite a carton of marshmallow cream once and sucked it out through there."
Ba'ar smiles and nods "Speaking of marshmallows..have you heard of Fluff? Spreadable Marshmallows. Delicious."
Aleu mrrs, "Really? Awesome."
Ba'ar smiles "Sorry. Now then...What's a typical day like for you?"
Aleu mrrs, "A typical day for me... well, I suppose I just head to the garden and chill out for a while, listen to conversations, generally be a wallflower, though when a friend comes around, we go off to their place to talk there, play games, or things like that."
Ba'ar growls, "Who do you admire the most? "
Aleu mrrs, "Oh man... so many to choose from. I like Adara and her neverending resolve to have events, Argon for doing the paper... I actually think it's impossible for me to choose. Lots of amirable furs here abouts."
Ba'ar growls, "Do you have any plans for the future?"
Aleu mrrs, "Hmmm... well, I have a convention trip coming up to MFM, I'm planning on making my home into something public, like a dance hall or something, and if the fates allow... maybe a batty boyfriend." She blushes."
Ba'ar nods "What secret fact or desire about you would surprise our readers?"
Aleu nods. "In spite of being a vampire, creature of the night and all that rot, I don't like to see senseless bloodshed or wanton violence. I'm a bit of a pacifist."
Ba'ar nods "In closing, do you have any words of wisdom for our readers?"
Aleu grins and winks a bit. "Lock your windows and listen for bumps in the night..."
Ba'ar grins "But you told us already you're a pacifist. We shouldn't be afraid of you."
Aleu mrrs, "Pacifist doesn't mean I don't get hungry. >:)"
Ba'ar growls, "That concludes our interview. Again thanks."
Aleu mrrs, "No problem, it was an honor to be interviewed... heh. Interview with a Vampire. Hope we don't get sued..."
Ba'ar grins "You were just Lestat(ING) the facts ma'am."